Hey all,
During Ninja week our awesome Ninja
@Futurhythm
won this set. And due the scale of the items the shipping costs to the land of Down Under was just far too much to make the win worth it for him. We're taking care of him in another way, but he's told us to give away these awesome Tetris statues that light up to some of you lucky folks.
Here's a pic for reference.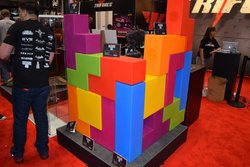 The kicker is you have to pay some of the shipping. That said, this is open in the
USA ONLY. $20 shipping per block and HDN will cover the rest of the shipping cost. USA ONLY.

First up is a SET of 3 BLOCKS ....... Then a solo block winner! (2 winners for now)

Reply below for your chance to win.

REPLY WITH "YES I WOULD PAY THE SHIPPING"

Winners to be decided soon!
Last edited:
1

1