Pop!/Movies/TV Mod
Moderator
Premium Supporter
0.00 star(s)
Rating: 0.00/5 0 Votes
Title:
The Babysitter (2017)
Genre: Horror
Director: McG
Cast: Samara Weaving, Judah Lewis, Bella Thorne, Robbie Amell, Andrew Bachelor, Emily Alyn Lind, Hana Mae Lee, Leslie Bibb, Ken Marino, Doug Haley, Chris Wylde, Samuel Gilbert, Zachary Alexander Rice, Miles J. Harvey, Mark Mammone, Jonathan Bray, Frederick Keeve, Jimmy Warden
Release: 2017-10-13
Plot:
Cole is madly in love with his babysitter Bee. She's hot, funny, and popular. One night, in a moment of defiance, Cole secretly stays up his bedtime to discover she's actually a cold-blooded killer who's in league with the Devil. He now must spend his night evading Bee's band of killers who will stop at nothing to prevent Cole from spilling their dark secret. It's up to Cole to survive the night (and blow up a few people along the way).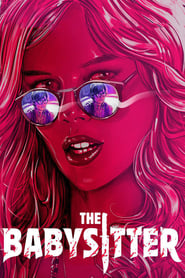 Last edited:
3

2