wouldst like to live deliciously
Premium Supporter
*** V I P ***
Release date:
25 July 2016
Purchase links: Eureka! -
Amazon UK
-
Zavvi
Price:
£29.99
(Eureka)
- £25.95
(Amazon)
- £27.99
(Zavvi)
Notes:
3 amarays in a hardbox, with chunky 180+ page perfect bound book.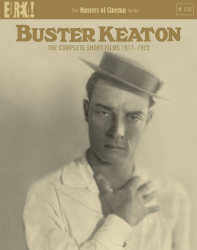 Containing thirty-two films – with a running time of over 720 minutes – this collection documents Buster Keaton's short films between 1917-1923.
Capturing Keaton's first steps in front of a camera this box set charts his early association with ex-Keystone Kop Roscoe 'Fatty' Arbuckle through to starring in, headlining, and directing his own box office smash hits. Using Chaplin's old Hollywood studios in 1920, Keaton's sophisticated technical inventiveness coupled with his haunted-yet-handsome 'Stone Face' persona, created a succession of the most timeless, classic comedy shorts ever realised. The Masters of Cinema Series is proud to present the following films in a luxurious box set, available on DVD, as well as on Blu-ray for the first time in the UK.
Featuring:
The Butcher Boy
(1917),
The Rough House
(1917),
His Wedding Night
(1917),
Oh, Doctor!
(1917),
Coney Island
(1917),
Out West
(1918),
The Bell Boy
(1918),
Moonshine
(1918),
Good Night Nurse
(1918),
The Cook
(1918),
Backstage
(1919),
The Hayseed
(1919),
The Garage
(1919),
The "High Sign"*
(finished 1920, released 1921),
One Week*
(1920),
Convict 13*
(1920),
The Scarecrow
(1920),
Neighbors
(1920),
The Haunted House
(1921),
Hard Luck
(1921),
The Goat
(1921),
The Playhouse*
(1921),
The Boat*
(1921),
The Paleface
(1922),
Cops*
(1922),
My Wife's Relations
(1922),
The Blacksmith
(1922),
The Frozen North
(1922),
Daydreams
(1922),
The Electric House
(1922),
The Balloonatic
(1923),
The Love Nest
(1923)
SPECIAL FEATURES
1080p presentations from new restorations
Multiple scores on selected shorts
Audio commentaries by Joseph McBride on The 'High Sign', One Week, Convict 13, The Playhouse, The Boat, and Cops
Newly discovered version of The Blacksmith containing four minutes of previously unseen footage
Alternate ending for Coney Island
Alternate ending for My Wife's Relations
That's Some Buster, a new exclusive video essay by critic and filmmaker David Cairne
An introduction by preservationist Serge Bromberg
The Art of Buster Keaton, actor Pierre Étaix discusses Keaton's style
Audio recording of Keaton at a party in 1962
Life with Buster Keaton (1951, excerpt) - Keaton re-enacts Roscoe Arbuckle's "Salomé dance", first performed in The Cook
PLUS: A 184-PAGE BOOK containing:
A roundtable discussion on Keaton by critics Brad Stevens, Jean-Pierre Coursodon and Dan Sallitt
A new essay and detailed notes on each film by Jeffrey Vance, author of Buster Keaton Remembered
A new essay by Serge Bromberg on the two versions of The Blacksmith and other discoveries
The words of Keaton
Archival imagery
Last edited by a moderator: