#TheLaw
Super Moderator
Premium Supporter
[MOVIE1]
Title:
The Emoji Movie (2017)
Tagline:
Express Yourself
Genre:
Comedy
,
Family
,
Animation
Director:
Anthony Leondis
Cast:
Patrick Stewart
,
T.J. Miller
,
James Corden
,
Maya Rudolph
,
Rob Riggle
,
Jake T. Austin
,
Jennifer Coolidge
,
Anna Faris
,
Sofía Vergara
Release Date:
2017-07-28
Runtime:
0
Plot:
Gene, a muli-expressional emoji, sets out on a journey to become a normal emoji.[/MOVIE1][POSTER1]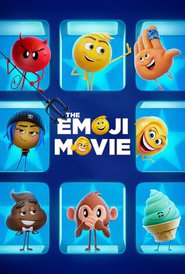 [/POSTER1]
The Emoji Movie unlocks the never-before-seen secret world inside your smartphone. Hidden within the messaging app is Textopolis, a bustling city where all your favorite emojis live, hoping to be selected by the phone's user. In this world, each emoji has only one facial expression – except for Gene (T.J. Miller), an exuberant emoji who was born without a filter and is bursting with multiple expressions. Determined to become "normal" like the other emojis, Gene enlists the help of his handy best friend Hi-5 (James Corden) and the notorious code breaker emoji Jailbreak (Ilana Glazer). Together, they embark on an epic "app-venture" through the apps on the phone, each its own wild and fun world, to find the Code that will fix Gene. But when a greater danger threatens the phone, the fate of all emojis depends on these three unlikely friends who must save their world before it's deleted forever.
Deadline
reports
The project will be co-written by Eric Siegel and Anthony Leondis, with the latter directing the feature. Leondis pitched the project around to studios, with storyboards for how the movie would play out. Three studios bid–I've heard Warner Bros and Paramount were the others–but none more aggressively than Sony. It's a big project for SPA president Kristine Belson, who got a quick decision from studio chief Tom Rothman to move aggressively. Michelle Raimo Kouyate is producing. This appears to be a zeitgeist moment for these ideograms that hatched in Japan and have spread worldwide. Unlike like, say Lego, there are also no underlying rights here to purchase, which makes this as much a catnip idea to Hollywood as public domain fairy tales that fuel so many blockbusters.
Last edited by a moderator: