Pop!/Movies/TV Mod
Moderator
Premium Supporter
The Hobbit: Desolation of Smaug (Extended Edition)
Release Date: November 4, 2014
2D Link
3D Link
Warner Bros. Home Entertainment has officially announced
The Hobbit: The Desolation of Smaug, Extended Edition.
The 186-minute Extended Cut arrives on Blu-ray on November 4th.
The new Extended Cut will be released on both 2D and 3D Editions. The new cut includes 25 minutes of additional film footage that extends individual scenes, and new scenes. It will also include over nine hours of new bonus features! This Set will get you ready for the December 17th theatrical release of the third and final film,
The Hobbit: The Battle of the Five Armies
.
The Hobbit: The Desolation of Smaug, Extended Edition
is presented in 1080p with DTS-HD Master Audio 7.1 surround. Special features available on both the 2D and 3D releases of the Extended Edition include:
Audio Commentary with Director/writer/producer Peter Jackson and writer/co-producer Philippa Boyens
New Zealand: Home of Middle-Earth, Part 2 - Travel with Jackson and his team across the stunning locations of New Zealand, transformed by the filmmakers into Middle-Earth.
The Appendices Part 9 & 10: The next two installments in Jackson's sprawling "Appendices" production documentary showcase an immersive multi-part history of the filming of The Hobbit: The Desolation of Smaug, covering preproduction in the various departments of the film in the months leading up to the start of principal photography, training, the work done on set and in the world of its digital effects.
Box Art: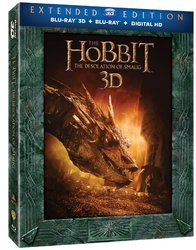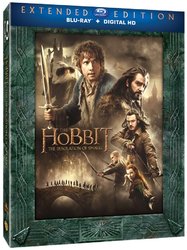 Last edited: