Contributor Steels/Arrow
Contributor
Premium Supporter
Release Date:
18th January 2016
Purchase Links:
Arrow Films
Price: £84.99 (£74.99 Early bird price available until 8th September)
Amazon UK
Price:
£123.92
Zavvi
Price:
£149.99
Format:
Dual Format Blu-ray + DVD
However, please be aware that owing to a new contractual obligation we have unfortunately had to amend to region-coding to
REGION B ONLY

Ignatius Fitzpatrick's artwork for our upcoming Jacques Rivette boxed-set, containing Out 1 in both its full-length 8-episode near-13-hour version and five-hour Spectre cut, Duelle (une quarantaine), Noroit (une vengeance) and Merry-Go-Round.
The boxed-set is released on November 30th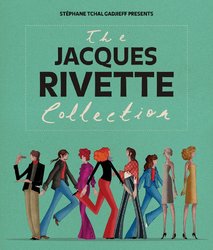 UK TITLE ANNOUNCEMENT: The Jacques Rivette Collection - this collection of elusive masterpieces from the New Wave director features home video premieres for three features and the 13-hour (8 episode) Out 1, in both its Noli me tangere and Spectre versions. In a newly restored collection with brand new extras, comprising 16 discs, an extensive book of writing and deluxe packaging, limited to just 3000 copies on DVD and Blu-ray!
Released 20th November.
Synopsis:
The Jacques Rivette Collection brings together some of the director's hardest to see works, each restored, newly translated and debuting on home video for the first time in UK.
Out 1 is one of the crowning achievements of Rivette's remarkable career. Conceived as a television mini-series, this near-thirteen-hour monolith consists of eight feature-length episodes revolving around two theatre troupes, blackmail and conspiracy. Multiple characters introduce multiple plotlines, weaving a rich tapestry across an epic runtime.
Originally screened just the once in its full-length version in 1971, Out 1 was then re-conceived by Rivette as a four-and-a-half-hour feature. Making use of alternative and unseen footage, the director renamed this version Out 1: Spectre as an acknowledgement of its shadow-like nature. Both are presented in this boxed-set, fully restored and with newly-translated English subtitles.
Complementing Out 1 are two 'parallel films', Duelle (une quarantaine) and Noroît. The former sees Rivette head into fantasy territory: the Queen of the Sun (Bulle Ogier) and the Queen of the Night (Juliet Berto) search for a magical diamond in present-day Paris. The latter is a loose adaptation of The Revenger's Tragedy and a pirate tale, starring Geraldine Chaplin (Nashville, Cría cuervos). Also included is Merry-Go-Round, in which Joe Dallesandro (Flesh for Frankenstein) and Maria Schneider (The Passenger, Last Tango in Paris) are summoned to Paris, kickstarting the most surreal of all Rivette's mysteries.
LIMITED EDITION CONTENTS
Limited Edition Collection [3,000 Copies]
High Definition Blu-ray (1080p) and Standard Definition DVD presentation of all films from brand new 2K restorations of the films with Out 1 supervised by cinematographer Pierre-William Glenn
Original mono audio (uncompressed PCM on the Blu-rays)
Optional newly-translated English subtitles for all films
The Mysteries of Paris: Jacque Rivette's Out 1 Revisited – a brand-new feature length documentary by Robert Fischer and Wilfred Reichart containing interviews with actors Bulle Ogier, Michael Lonsdale and Hermine Karagheuz, cinematographer Pierre-William Glenn, assistant director Jean-François Stévenin and producer Stéphane Tchalgadjieff, as well as rare archival interviews with actors Jacques Doniol-Valcroze and Michel Delahaye, and director Jacques Rivette
Scenes from a Parallel Life: Jacques Rivette Remembers – archive interview with the director, in which he discusses Duelle (une quarantaine), Noroît and Merry-Go-Round, featuring additional statements from Bulle Ogier and Hermine Karagheuz
Brand-new interview with critic Jonathan Rosenbaum, who reported from the sets of both Duelle (une quarantaine) and Noroît
Exclusive perfect-bound book containing new writing on the films by Mary M. Wiles, Brad Stevens, Ginette Vincendeau and Nick Pinkerton
Region:
B
Rating:
TBC
Cat No:
FCD1192
Duration:
Various
Language:
French
Subtitles:
English
Aspect Ratio:
Various
Audio:
Mono
Discs:
16
Colour
Last edited: