Ltd. Ed./Birthdays/Video Game Mod
Moderator
Premium Supporter
[CONTAINER][MOVIE1]
Title:
The Other Side of the Door (2016)
Genre:
[GENRE]Horror[/GENRE]
Director:
[DIRECTOR]Johannes Roberts[/DIRECTOR]
Cast:
[ACTOR]Sarah Wayne Callies[/ACTOR], [ACTOR]Jeremy Sisto[/ACTOR], [ACTOR]Javier Botet[/ACTOR], [ACTOR]Sofia Rosinsky[/ACTOR], [ACTOR]Logan Creran[/ACTOR], [ACTOR]Jax Malcom[/ACTOR]
Release Date:
[RELEASE]2016-03-11[/RELEASE]
Runtime:
[RUNTIME]0[/RUNTIME]
Plot:
Grieving over the loss of her son, a mother struggles with her feelings for her daughter and her husband. She seeks out a ritual that allows her say goodbye to her dead child, opening the veil between the world of the dead and the living. Her daughter becomes the focus of terror. She must now protect against the evil that was once her beloved son.[/MOVIE1][POSTER1]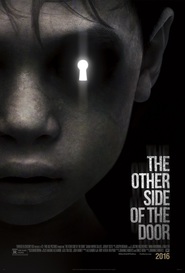 [/POSTER1][/CONTAINER]
Source:
Comingsoon.net
20th Century Fox has just released a new international The Other Side of the Door trailer for the supernatural thriller starring The Walking Dead's Sarah Wayne Callies.

Directed by Johannes Roberts (who also scripted the film alongside Ernest Riera), The Other Side of the Door follows a family who are living an idyllic existence abroad. That is, until a tragic accident takes the life of their young son. The inconsolable mother (Sarah Wayne Callies) learns of an ancient ritual that will bring him back to say a final goodbye. She travels to an ancient temple, where a door serves as a mysterious portal between two worlds. But when she disobeys a sacred warning to never open that door, she upsets the balance between life and death.

The Other Side of the Door also stars Jeremy Sisto. Produced by Alexandre Aja, Rory Aitken and Ben Pugh. It's set to hit theaters March 11, 2016.
Last edited by a moderator: