[MOVIE1]
Title:
Tomb Raider (2018)
Genre:
Action
,
Adventure
,
Fantasy
Director:
Roar Uthaug
Cast:
Alicia Vikander
,
Walton Goggins
,
Daniel Wu
,
Leo Ashizawa
,
Dominic West
Plot:
Archaeologist Lara Croft sets off on a series of international adventures.[/MOVIE1][POSTER1]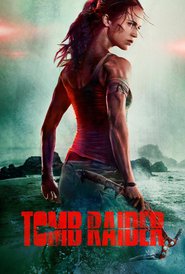 [/POSTER1]
THR is reporting that Alicia Vikander (Ex Machina, The Danish Girl) has nabbed the highly coveted role of Lara Croft in the planned Tomb Raider reboot. Star Wars: The Force Awakens star Daisy Ridley was strongly rumored to be in the running, but sources indicate that Vikander was "always in the driver's seat".

Apparently Suicide Squad actress Cara Delevigne was also in contention.

Norwegian filmmaker Roar Uthaug will helm the new Tomb Raider movie, and it was recently confirmed that his film would be based on the plot of Square Enix 2013 version of the game which followed Croft on her first adventure.

There is no official release date yet.​
WOOT!
Last edited:
3

3