Super Moderator
Super Moderator
Premium Supporter
Max Wesoloski helps keep the Summer cool with his newest gig posters for Trey Anastasio's recent concerts at the Saratoga Performing Arts Center (SPAC)!
Max's print features an idyllic scene filled with calming elements, all harmoniously existing under a cleverly patterned sky. Max's print is quite literally singing with the warmth of Trey's songs!
Max's print will be available TODAY @ 12PM ET on our homepage!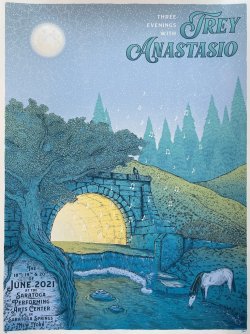 Trey Anastasio - Saratoga Performing Arts Center 2021
Screen print
18 x 24 inches
Hand-numbered AP edition of 75
$45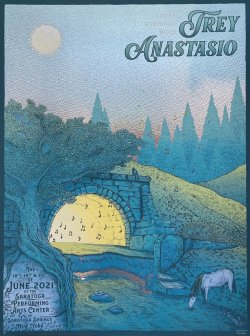 Trey Anastasio - Saratoga Performing Arts Center 2021 - Foil Variant
Screen print on Champagne foil paper
18 x 24 inches
Hand-numbered AP edition of 50
$80