Super Moderator
Super Moderator
Premium Supporter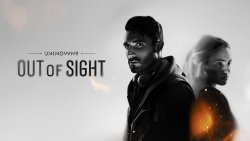 Reflector Entertainment premiered the next installment of its first original podcast,
Unknown 9: Out of Sight
. The podcast is part of the larger Unknown 9 Storyworld that brings this all-new entertainment franchise to life across multiple platforms including comic books, novels, video games, and television series. Unknown 9 is about finding the extraordinary in the mundane, seeking out what has been forgotten and believing in the unknown. Following the release of
Unknown 9: Out of Sight
episodes 1-3 on August 27, 2020, listeners can now look forward to new episodes every Thursday on Apple Podcasts, Google Podcasts, Spotify, and Stitcher.
Listen to Unknown 9: Out of Sight Episode Four: "The Dead Girl"
HERE
Throughout nine episodes of
Unknown 9: Out of Sight
season one, follow Blake Elrich (Jorge Cordova), an urban explorer with a haunted past, as he travels the country in an old RV with his partner and producer Lazari (Reyna de Courcy). At every stop along their journey, our duo encounters an inexplicable occurrence. What's more, they're beginning to suspect that someone is leading them to each strange case. Events intensify when an enigmatic figure emerges, terrorizing whole communities. Blake and Lazari must now race to undo the damage that's already been done and prevent a terrifying force from emerging.
The Unknown 9 podcast is produced by Gideon Media and written by Jessica Kincaid. The voice cast includes Jorge Cordova as "Blake Elrich," Reyna de Courcy as "Lazari," Diana Oh as "Sam," Brian Silliman as "Jim," Kelley Rae O'Donnell as "Maggie," Nat Cassidy as "Nat," Abraham Makany as "Trevor," Alfredo Narcisco as "Luis," Ana Maria Jomolca as "Lorel," and Chinaza Uche as "Cole." As co-producers of the podcast, Gideon Media contributed by casting the voice actors, handling the recordings and editing, thus ensuring the podcast is a seamless part of the overall Unknown 9 universe.
The Unknown 9 Storyworld is an unfolding paranormal mystery that focuses on arcane mysteries hidden in plain sight, the discovery of forbidden knowledge that could shift previously held paradigms and the truths that could alter humankind's future.
Listeners can subscribe to
Unknown 9: Out of Sight
on Apple Podcasts, Google Podcasts, Spotify, and Stitcher. More info on the Unknown 9 Storyworld can be found at
Unknown 9: Awakening - Explore the Storyworld