Hi all, I've decided to set up shop here for a variety of editions, mostly steelbook premium releases!
US only shipping preferred
Free Media Mail Shipping to US (if you want faster shipping charges will apply)
Prices in USD currency
PM me if you have questions about shipping or condition
(some items may have very slight shelf wear, so ask on individual items if concerned)
3 positive trades/sales on HDN.
Also here's my
ebay
for extra rating reference:
http://www.ebay.com/filmique
My wants are listed at the bottom of this post.
SELLING/TRADING (Open unless noted otherwise):
Premium Releases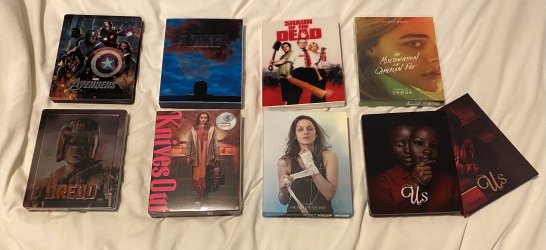 NovaMedia Avengers Steelbook + Extras (No Slip)

$100

KimchiDVD It Follows Lenticular Type B

$130

EverythingBLU Shaun of the Dead Lenticular

$65

The Miseducation of Cameron Post

Amaray Release

(SEALED)

$30

NovaMedia Dredd Steelbook (SEALED, small tear on front plastic wrap)

$50

KimchiDVD Knives Out 4K FullSlip (SEALED)

$140

Plain Archive Rust & Bone Type A

Amaray Release

$50

Manta Lab Us 4K Steelbook + Extras

$80

Plain Archive Parasite Type A Fullslip Steelbook (SEALED)

$185
Steelbooks/MetalPak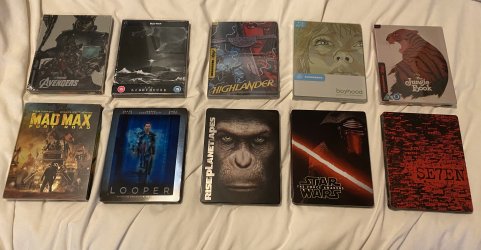 Mondo Avengers Steelbook (minor dent) SEALED

$50

Zavvi Lighthouse Steelbook SEALED

$80

Mondo Highlander Steelbook SEALED

$40

Mondo Boyhood Steelbook

$20

Mondo Jungle Book Steelbook SEALED

$65

BestBuy Mad Max Fury Road Steelbook

$40

FutureShop Looper Steelbook w/ Lenti Magnet (minor dent)

$35

Rise of the Planet of the Apes Metalpak

$30

BestBuy Star Wars The Force Awakens Steelbook (Debossed Title w/ spine lenticular magnet)

$20

Se7en Steelbook RARE

$50
Mixmatch/Empty Slips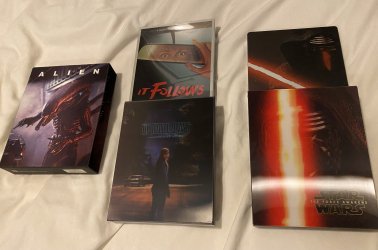 FilmArena Alien Lenticular Slipbox (No Steelbook or Extras)

$80

KimchiDVD It Follows Lenticular Type A (w/ Anchor Bay Steelbook RARE, no extras)

$140

Blufans Star Wars The Force Awakens Lenticular Slip (w/ Zavvi Steelbook)

$60
WANTS
Korea The Wailing Steelbook Type B Fullslip
FilmArena Kong: Skull Island Lenticular XL
FilmArena Godzilla: King of Monsters Fullslip XL
FilmArena Doctor Strange Fullslip
Plain Archive/DVDPrime Science of Sleep Slipcase
KimchiDVD Snowpiercer Fullslip
KimchiDVD Memento Lenticular
Film Arena As Above, So Below FullSlip Steelbook
Open to other offers as well, thanks
Last edited: