Super Moderator
Super Moderator
Premium Supporter
New York Comic Con is our favorite event of the year, and often our best opportunity to connect with the larger Bottleneck community. With continuing safety concerns, and the hope that everybody is as safe as possible during the current pandemic, we're dedicating most of October to a wide variety of pop culture releases fit for a con, beginning with our newest lenticular, JAWS, co-released with Vice Press!
We will also be doubling the accrual of Bottlebux Points during these next three weeks of releases, which means that every $1 spent = 10 Bottlebux!
Originally created by Roger Kastel, the JAWS' movie poster is one of the most praised and recognizable movie posters of the 20th century. Roger's initial painting was used for the book cover of Jaws, and then later adapted into the legendary movie poster, and we're giving both versions the lenticular treatment!
Our lenticulars help bring Roger's terrific terror from the sea directly to your home. We've worked closely with the original source images to ensure that both Bruce and the unfortunate swimmer are brought to life with the lenticular process.
As a quick refresher from our previous lenticular release, we're currently offering two versions:
A thinner (1mm), flexible PET lenticular print mounted on dense paper backing
A thick lenticular print (4mm), akin to plexi-glass, called polystyrene. We call this one Lenticular Plex for differentiation.
See our Lenticular Prints FAQ for more information.
The 1mm version of the JAWS lenticular with movie credits will be available as a timed edition TODAY @ 12PM ET through Sunday (10/11) @ 11:59PM ET on our homepage!
The 4mm plex of the JAWS lenticular with movie credits, the 1mm version of the JAWS art print lenticular, and the 4mm plex version of the JAWS art print will be available as limited edition releases TODAY @ 12PM ET on our homepage!
Please note: The images below are a mockup to demonstrate the 3D effect, actual prints will differ. All lenticular prints ship flat and cannot be combined with any other order.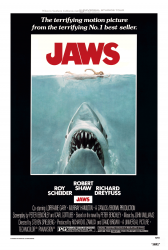 JAWS - 3D Lenticular
1mm PET mounted on high density paper backing
24 x 36 inches
Timed edition
Edition size will be determined by the number of prints sold
through Sunday, October 11th @ 11:59PM ET
Includes hand-numbered COA with BNG hologram of authenticity
$100
JAWS - 3D Lenticular Plex
4mm Polystyrene
~ 24 x 36 inches
Limited edition of 450
Includes hand-numbered COA with BNG hologram of authenticity
$200
Ships in Q1 2021
Co-released with Vice Press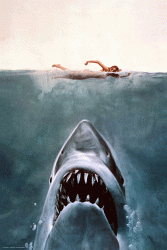 JAWS: Art Print - 3D Lenticular
1mm PET mounted on high density paper backing
24 x 36 inches
Limited edition of 500
Includes hand-numbered COA with BNG hologram of authenticity
$100
JAWS: Art Print - 3D Lenticular Plex
4mm Polystyrene
~ 24 x 36 inches
Limited edition of 350
Includes hand-numbered COA with BNG hologram of authenticity
$200
Ships in Q1 2021
Co-released with Vice Press