Super Moderator
Super Moderator
Premium Supporter
We're honored and thrilled to present Daniel Danger's newest project: An officially licensed laser cut, hand-assembled, multi-layer screen print, framed, ready-to-hang, 3D shadow box for Star Wars (we're out of breath)!
We saw Daniel's previous shadow box releases and immediately fell in love with the uniqueness and intricacy of the work. Daniel's experimentation with his art is super admirable, and the results were phenomenal, so we pitched an out-of-this-galaxy idea to him and let him run wild with the Star Wars universe in shadow box form. Like dioramas, Daniel's hand-assembled shadow boxes bring multiple new dimensions to his art, and we're so proud of what he and his team have accomplished with this release.
Daniel's vision of Luke's meeting and training with Yoda on Dagobah provides the perfect set piece for Daniel to play within. For more information, and some intriguing behind-the-scenes footage of Daniel's year-long project, check
https://www.willhefinishwhathebegins.com/
.
The regular edition of Daniel's shadow box is available as a timed-edition release through Sunday (1/30) @ 11:59PM ET on our homepage, Bottleneckgallery.com. In addition, there are limited variants of the shadow box and a limited print edition.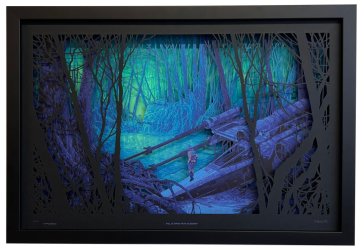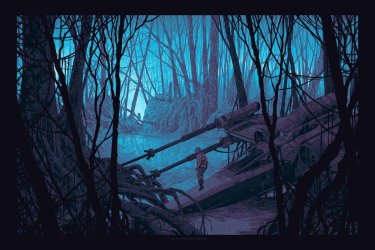 "will he finish what he begins…? - Framed Shadowbox - Timed Edition
18-color screen print across background and three laser-cut layers
Ready to hang in a custom wooden shadow box with three custom cut black foam spacers
12 x 18 inches (13 x 19 inches framed)
Signed and hand-numbered timed edition
Edition size will be determined by the amount sold through Sunday (1/30) @ 11:59PM ET
$300*
*Upgrade to Museum Glass for the fame for an extra $20 by checking out with the upgrade item
Estimated to ship in Summer 2022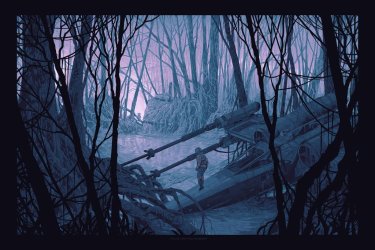 "will he finish what he begins…? - Framed Shadowbox - Lavender Edition
18-color screen print across background and three laser-cut layers
Ready to hang in a custom wooden shadow box with three custom cut black foam spacers
12 x 18 inches
Signed and hand-numbered edition of 175
$350*
*Upgrade to Museum Glass for the fame for an extra $20 by checking out with the upgrade item
Estimated to ship in Q2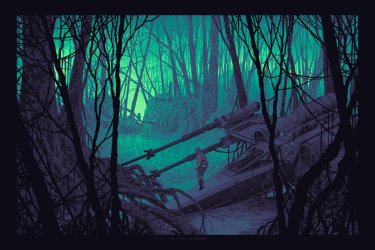 "will he finish what he begins…? - Framed Shadowbox - Green Edition
18-color screen print across background and three laser-cut layers
Ready to hang in a custom wooden shadow box with three custom cut black foam spacers
12 x 18 inches
Signed and hand-numbered edition of 125
$375*
*Upgrade to Museum Glass for the fame for an extra $20 by checking out with the upgrade item
Estimated to ship in Q2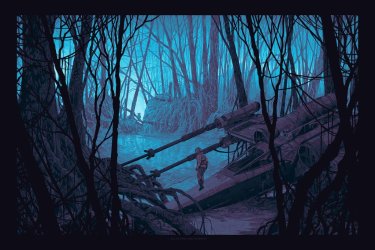 "will he finish what he begins…? - Screen Print Edition
14 color screen print
36 x 24 inches
Signed and hand-numbered edition of 275
$65
Estimated to ship in Q2