Forum Support Manager
Super Moderator
Premium Supporter
Who here is interested in Windows 10 that will be releasing as a FREE upgrade to Windows 8.1 & Windows 7? This OS looks wickedly sweet. If you see a Window icon down in your system tray 'Click It' and you can sign up to receive it free when it releases and it will automatically download and wait for you to install it at a time that is right for you.
Here's a screenshot of what pops up when clicked on.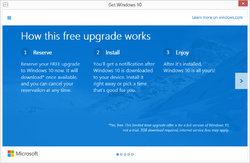 I found a video demo of a early release on YT.
Here's a YT video on Windows 10 and Project Spartan, the new Internet browser that will replace Internet Explorer.
Anyways share your input positive or negative on Windows 10.