Super Moderator
Super Moderator
Premium Supporter
#BESTWEEKEVER
#NINJAWEEK 2018!

Donated by/Host:
Insight Editions/mllNY
DURATION:
Ninja week: Feb 19 - Feb 25
WHO IS ELIGIBLE?
All registered members, regardless of post count

The PRIZE:

Marvel's Black Panther: The Illustrated History of a King
https://insighteditions.com/product/marvels-black-panther-the-illustrated-history-of-a-king/
From his first appearance in
Fantastic Four
#52 (1966) to his current
New York Times
best-selling solo series, the King of Wakanda has been a force to be reckoned with on the page—and now, on the silver screen. A veteran Avenger and a member of the Illuminati, T'Challa's evolution from being a Jack Kirby and Stan Lee creation, to inspiring his own character-led film for Marvel Studios, to serving as a literal voice of the people and the state of race relations in twenty-first-century America has been legendary. As the first black superhero in mainstream American comics, debuting years before other industry heavy hitters like the Falcon, Luke Cage, and John Stewart (Green Lantern), Black Panther is a seminal figure in pop culture history.
This deluxe hardcover book not only covers the history and creation of the character but also features exclusive concept art, layout and sketch art, and interviews with key artists and writers from Black Panther's robust archives. Cover art and exclusive art card by acclaimed artists Denys Cowan, Bill Sienkiewicz, and Elizabeth Breitweiser.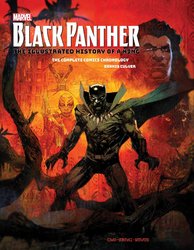 DC Comics: Super-Villains
https://insighteditions.com/product/dc-comics-super-villains/
Discover the origins, secrets, and nefarious schemes of the most powerful and corrupt villains in the DC Universe in this lavishly illustrated visual history.
As any comics fan knows, a Super Hero is nothing without a worthy foe to battle. For every Batman there has to be a super-villain like The Joker, and for every Superman a Lex Luthor. This deluxe book celebrates nearly eighty years of compellingly corrupt characters from the DC Universe's remarkable gallery of super-villains. From the Penguin to Harley Quinn and Doomsday to General Zod, DC Comics: Super-Villains explores the story of these beloved baddies through new interviews with acclaimed writers and artists, including Jim Lee, Mike Carlin, Dan DiDio, and Chuck Dixon. Charting the dynamic way in which DC Comics evildoers have evolved throughout the years, the book brings together the very best super-villain art from the DC Comics archives. Also featuring a foreword by filmmaker and comic book writer Kevin Smith, and an exclusive cover illustrated by acclaimed artist Phil Jimenez, DC Comics: Super-Villains is the ultimate celebration of the nefarious DC Comics characters that fans love to hate.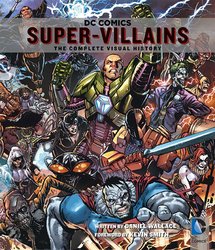 How do i win this?!
1. Thank the OP
2. Answer this question: On top of some amazing art books Insight Editions creates Cookbooks featuring recipes from different series including World of Warcraft and The Walking Dead. What series would you like to see them do?
3. Winner to be chosen via random.org

CONTEST TERMS and other Info:
One post/entry per person. Insight Editions will ship direct. I will contact winner(s) with info.

Good luck everyone!

Click HERE to support the site
Check out Insight Editions for some amazing highly illustrated art books along with their Incredibuilds product line and be sure to follow them on social!

Insight Editions
Insight Editions is a publisher focused on creating superlative illustrated books on photography, music, and popular culture. Lavishly produced and visually stimulating, every volume from Insight is dedicated to the skillful interplay of word and image. The books produced are unique works that combine the highest quality print production values with the time-honored traditions of publishing and rich subject matter. Elegant and informative, books from Insight showcase the best of art and photography in exquisite presentations of the bookmaker's craft.


Stay tuned for updates throughout the Ninja Week 2018 and all year round:
Facebook | Twitter | Instagram
Last edited: