Release Date:
October 21st, 2013
Pre-order: Click Entertainment Store
Price:
£26.99
Official announcement:
The Entertainment Store is proud to announce the release of its latest Steelbook: World War Z.

The Entertainment Store Exclusive World War Z 2D & 3D Blu-Ray Steelbook features sequential laser etched numbering on each copy, a world first for a Blu-Ray Steelbook.

Limited to

5,000

individually numbered copies worldwide, the Entertainment Store Exclusive World War Z 2D & 3D Blu-Ray Steelbook features:

- Includes 2D and 3D Blu-Rays (2 discs)

- Embossed red Z on front

-

Numbering will be at the bottom right on the front

- Entertainment Store Exclusive sticker

- Pile of Zombies will have a black/grey matte finish

- White area is white (not silver) and will feature a "zero finish", described here via Scanavo's website:

Zero varnish is a neutral, low-gloss finish but it maintains high color intensity and brightness. Zero varnish has a high resistance to scratching.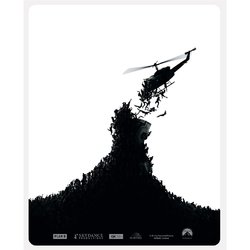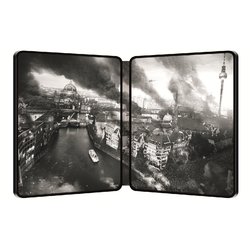 Specs:
Audio: English Audio Description ; German;Italian;Castilian Spanish;Parisian French
Subtitles: English;English SDH;German;Dutch;Italian;Danish;Swedish;Norwegian; Finnish;Castilian Spanish;Parisian French
Region: FREE
It is the unrated cut (8mins of extra footage), although this is on the 2D disc only (for some reason Paramount didn't do it on the 3D disc)
Update 8/20/2013​
Below is an informative 'Road to an ES Steelbook' interview that the team at 'The Entertainment store' provided exclusively to HDN
READ MORE HERE:
HDN: Thank you for agreeing to be interviewed for this special HDN Exclusive community feature. We hope you can share with our members what kinds of processes and considerations are part of your Steelbook releases-provide a 'peek behind the curtain' so to speak! Q-HDN: How do you determine what titles will receive the Steelbook treatment? A-ES:

The process for new release titles (i.e. those that have just been out in the cinema and are being released in Steelbook at the same time as they are in amaray) and for catalogue titles (older films) is quite similar. We ask ourselves a number of questions before starting discussions...

1.Is it a cool title that would offer something extra above the standard release?

2.Can we make it exclusive and premium?

3.Is it a title that people will want to buy in Steelbook? We can't imagine anyone ever wanting a Steelbook of a teen romcom movie, regardless of whether it includes 3D!

Q-HDN: What is the most challenging aspect of moving a release from concept to the market? A-ES:

There's no one area which is more challenging than any other to be honest – artwork selection, finish options, release date etc etc can all be difficult. It tends to vary from release to release. Everyone involved in the process, whether here at ES or at the studio, wants the same thing – a great product that people will love.

HDN: Who chooses the art and any special finish on the Steelbook? The studio or the retailer? A-ES:

It's a bit of both really. The studio ultimately has the final say on what artwork can be used on a steelbook since they own or license the film, and they may in turn need to get the artwork signed off by the director, production company or the actors. Generally the bigger the film, the more likely someone involved in actually making the film will need to say yes or no on what artwork can be used – this is often why you see the same artwork used all over the world. It's not the studios being lazy!

Special finishes (e.g. embossing, gloss, slip covers etc) tend to be down to time – in theory on a catalogue title this is endless, since there is no particular reason why something like Forbidden Planet needs to be released in November and not December, but other factors can influence this timing. There is a desire to have new release Steelbooks come out at the same time as their amaray counterparts, so like with Star Trek Into Darkness what we'd hope we could do we ultimately ran out of time on.

That all sounds like the studios dictate everything, and retailers like The Entertainment Store have no say in the finish product. We always try to influence the end product as much as we can and a lot of the time we go to the studio with an idea and the end product isn't too far from that original idea (Forbidden Planet and Natural Born Killers are pretty much what we asked for). Of course, like all retailers we ultimately have the ability to say 'no' if we feel the release isn't to our liking.

Q-HDN: What, to you makes a perfect Steelbook release? A-ES:

A film that you love with great artwork that captures the essence of what the film is about, with the best disc(s) that are available in the UK inside.

The UK Warner Bros. wave of classic titles that used the original poster art (e.g. Maltese Falcon) were fantastic and a great example of titles that didn't need to be overly embossed or glossed to look gorgeous – they just used the full space available on a Steelbook to display the art well.

Q-HDN: How long does it generally take from initial discussion to production for a Steelbook?

A-ES:

It varies incredibly, but at a minimum 2-3 months from the initial conversation to the finished product landing on people's doormats.


Q-HDN: Given the significant amount of feedback our community shares daily, would you consider releasing a Steelbook where the art was designed by a member of our community? A-ES:

The short answer is yes, we would. See 2 questions up for the artwork constraints we work within though...

Q-HDN: Can you share what would be on your own 'personal dream list' of titles that you would love to see released in Steelbooks?

A-ES:

This is a tough one, because some of the titles on our dream list here at ES are films that we hope someday we can release on steelbook ourselves! There are also a whole raft of titles that are unlikely to ever get a blu-ray release, let alone a steelbook. But, since you asked here are some suggestions from Team ES (that sadly will probably never see the light of day):

1.Baraka – the photography on this is so beautiful and varied that you could potentially do 3 or 4 steelbooks, each on a different theme from the film.

2.Team America – it's already being released, but a version of this which uses the Russian style propaganda posters in Kim Jong Il's palace for all of the artwork would be amazing.

3.Cross of Iron – a great Peckinpah film that has so much metal imagery in it (barbed wire, machine guns, actual Iron Crosses) it's practically begging for a steelbook.

4.Dollars Trilogy done as individuals using character shots as the front covers. You could even do 3 steelbooks for The Good, The Bad and The Ugly.

5.More westerns!

Q-HDN: Is there anything else you would like to share with the community?


We're looking forward to announcing more exclusive Steelbooks in the coming months through HDN.

HDN is a great online community, and we're proud to work closely with you guys through our contact at Play – you're the reason the ES sticker was created!

We're happy to take any follow up questions you may have…

HDN: Thank you very much for taking the time to speak with us. We look forward to seeing what else the Entertainment Store has planned for the months ahead.[
Update 8/19/2013
Hello HDN!
We're thrilled to be the first to bring you exciting news and an inside look about the next Steelbook release from
'
The Entertainment Store
' ...within the next day!
Be right
@HDN
in this same thread for the official 'reveal' of their next Steelbook™ on
8/20/2013
.
Don't want to miss the news? Subscribe to the thread to stay updated.

Enjoy and thanks for being part of our community at HDN!

Since its arrival in March 2013 The Entertainment Store has been working closely with Paramount Home Entertainment and have already teamed up to release exclusive Blu-Ray Steelbooks such as GI Joe: Retaliation, Hansel & Gretel: Witch Hunters and Star Trek: Into Darkness but this latest release looks to be the most exciting yet. The E-tailer distributes product directly from the Studio warehouses so the product is guaranteed as authentic and of the highest quality.

The Entertainment Store Exclusive World War Z 2D & 3D Blu-Ray Steelbook will be available to pre-order at midday (BST) Friday 23rd August 2013 on Play.com, when the price and release date will be revealed.
[/spoiler
Last edited: