Hello there! It's my first thread in this section, so please be patient

[UPDATED INFOS:]
I'm selling the full slip, limited release of Plain Archive's "Melancholia", #540. It's UNSEALED, I recently removed the shrink wrap but apart from that all is in AS NEW condition. I never played the Blu-ray itself.
I'm in Italy and can ship everywhere via Registered Mail, packing up with plenty of bubble wrap. You can find some updated glorious pics attached
I'm asking 60 € + PayPal fees + shipping costs. Shipping costs would be typically 15€ within EU and 22€ elsewhere. I'm a reliable person, here's my eBay feedback page (should it be of any help):
http://www.ebay.it/usr/konghetto
Any question, please just ask. Thanks!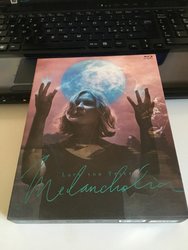 Last edited:
1

1