Hiya,

Time to sell some Steelbooks.

eBay profile

First up - my DC Animated collection.

All in excellent collection, three of them sealed. The three that are open have no dents or scratches on them. The three that are sealed are the same, but obviously can't vouch for underneath the J-Cards.

Titles are:

Justice League: War - Sold Elsewhere
Son Of Batman
Batman: Assault on Arkham
Justice League: Throne of Atlantis - Sold Elsewhere
Batman vs. Robin - Sold Elsewhere
Justice League: Gods And Monsters

Looking for £25 each - basically what it cost me to get them over here.

Thanks for looking.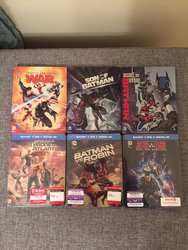 Last edited by a moderator: