Super Moderator
Super Moderator
Premium Supporter
We're dedicating Thursday to a party mix style release featuring the following artists: Matt Ferguson, Rockin' Jelly Bean, Jason Raish, and Matt Griffin!
Matt Griffin's Alien print captures the film's isolating mood with Ridley centered squarely in the mouth of xenomorph madness!
All of these prints will be available for purchase Thursday (10/15) @ 12PM ET on our homepage, Bottleneckgallery.com!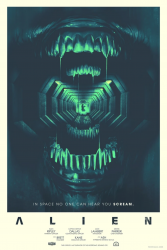 Alien
by
Matt Griffin
Screen print
24 x 36 inches
Hand-numbered edition of 250
$50
Estimated to ship in 4 - 6 weeks