Super Moderator
Super Moderator
Premium Supporter
Face front, True Believers!
This week we have two new Marvel posters focused on characters celebrating major birthday milestones in 2021.
First is a powerful Captain America poster from
Phantom City Creative
, which serves as a companion piece to
this PCC poster
we released for the first Avengers film way back in 2012. The good Captain turns 80 years old this year, but you'd never know it since the First Avenger can still wield Mjolnir with the mightiest of them all.
Next up we've got a new poster by
Michael Cho
for the Fantastic Four... who are celebrating 60 years of being Marvel's first family
and
the world's greatest comic magazine. We worked with Michael on
a poster for the X-Men
last year, and are happy to partner with him again on a poster honoring some of Marvel's best heroes.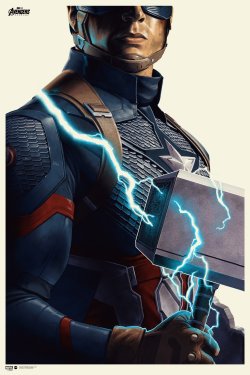 AVENGERS: ENDGAME - CAPTAIN AMERICA Screenprinted Poster.
Art by Phantom City Creative. Printed by DL Screenprinting. 24"x36". Edition of 300.
Expected to ship in April 2021. Ships to select territories.
$55.