Super Moderator
Super Moderator
Premium Supporter
Over the coming months, along with Bottleneck Gallery, we will be continuing the series, working with a number of artists to celebrate the classic Universal Monsters films, characters and actors that brought them to life,
The series will include
Dracula, Frankenstein, The Mummy, The Invisible Man, The Bride of Frankenstein, The Wolf Man, Phantom of the Opera,
and
Creature From The Black Lagoon.
This Tuesday Vice Press and Bottleneck Gallery will be launching a brand new officially licensed collection; UNIVERSAL MONSTERS! We will will be bringing this series to life with our first release
Frankenstein
by Anthony Petrie.
Available in both a Regular and Variant edition, these 24x36 screenprinted posters by Anthony display both the fragility of Frankenstein's Monster and the obsessive nature of the mind that saw his creation.
We will also be re-opening our store, listing all in stock prints we have. We will be limiting the frequency of our shipping but intend to get out all orders within 4 weeks. If your order is more urgent, please just let us know.
Frankenstein by Anthony Petrie goes on sale at 12pm EST/ 5pm BST (U.K) on Tuesday the 19th of May at Vice Press and Bottleneck Gallery under license from Universal City Studios LLC.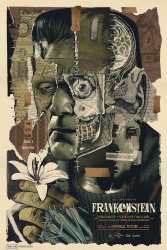 "Frankensteined" by Anthony Petrie
24 x 36 inch Screen Print
Hand Numbered Edition of 175
£40 / $50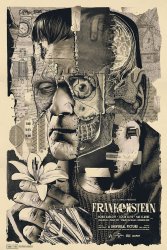 "Frankensteined" Variant by Anthony Petrie
24 x 36 inch Screen Print
Glow in the Dark
Hand Numbered Edition of 100
£50 / $65