Super Moderator
Super Moderator
Premium Supporter
Release date:
April 18, 2023
Purchase link:
Amazon
Price:
£22.99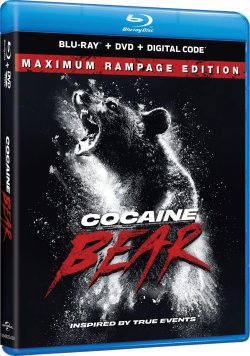 From Director Elizabeth Banks (
Charlie's Angels, Pitch Perfect 2
), comes
Cocaine Bear
, the "wildly entertaining" (the Mary Sue) story inspired by the time an actual bear did cocaine. The comedy-laced, high-octane film phenomenon stars Keri Russell (
Dawn of the Planet of the Apes
), Margo Martindale (
American Crime Story
), and the late Ray Liotta (
Goodfellas
) in "a thrilling binge of adrenaline" (TheWrap). The
'Maximum Rampage Edition,'
loaded with behind-the-scenes extras including an alternate ending, deleted scenes and gag reel, will be yours to own on Digital April 14, 2023 and Blu-ray™ and DVD April 18, 2023 from Universal Pictures Home Entertainment (UPHE).
Inspired by the 1985 true story of a drug runner's plane crash, missing cocaine, and the black bear that ate it, this wild dark comedy finds an oddball group of cops, criminals, tourists and teens converging in a Georgia forest where a 500-pound apex predator has ingested a staggering amount of cocaine and gone on a coke-fueled rampage for more blow … and blood.
'MAXIMUM RAMPAGE EDITION' EXCLUSIVE BONUS FEATURES TO OWN ON DIGITAL, BLU-RAYTM & DVD:
Alternate Ending
Deleted & Extended Scenes
Gag Reel
All Roads Lead to Cokey: The Making of COCAINE BEAR - Meet the hilarious ensemble brought together to bring the movie of what is soon to be the world's most famous bear to life.
UnBEARable Bloodbath: Dissecting the Kills - From rigging to special effects makeup, to some of the actors doing their own stunts, we'll get a bears-eye view into some of COCAINE BEAR's hilarious and gory kill scenes.
Doing Lines - Cast and filmmakers read lines from the script to COCAINE BEAR, which was a work of art unto itself.
Feature Commentary with Director/Producer Elizabeth Banks and Producer Max Handelman
FILMMAKERS:
Cast: Keri Russell, O'Shea Jackson Jr., Christian Convery, Alden Ehrenreich, Brooklynn Prince, Isiah Whitlock Jr., with Margo Martindale and Ray Liotta
Music Supervisors: Julia Michels, Julianne Jordan
Score By: Mark Mothersbaugh
Edited By: Joel Negron ACE
Production Designer:
Aaron Haye
Director of Photography:
John Guleserian
Executive Producers: Robin Mulcahy Fisichella, Alison Small, Nikki Baida
Produced By: Phil Lord p.g.a., Christopher Miller p.g.a., Elizabeth Banks p.g.a., Max Handelman p.g.a., Brian
Duffield p.g.a., Aditya Sood p.g.a.,
Written By: Jimmy Warden
Directed By: Elizabeth Banks
TECHNICAL INFORMATION BLU-RAYTM:
Street Date: April 18, 2023
Selection Number: 1000823429 (US)
Layers: BD-50
Aspect Ratio: Widescreen 16:9 2.39:1
Rating: Rated R for bloody violence and gore, drug content and language throughout.
Subtitles: English, French Canadian, and Latin American Spanish
Languages/Sound: English (DTS-HD Master Audio 7.1, Dolby Digital 2.0 for Bonus Content), French Canadian (DTS Digital Surround 5.1), and Latin American Spanish (DTS-HD High Resolution Audio 7.1)
Run Time: 01:35:21
TECHNICAL INFORMATION DVD:
Street Date: April 18, 2023
Selection Number: 1000823428 (US)
Layers: DVD 9
Aspect Ratio: Anamorphic Widescreen 16:9 2.39:1
Rating: Rated R for bloody violence and gore, drug content and language throughout.
Subtitles: English, French Canadian, and Latin American Spanish
Languages/Sound: English (Dolby Digital 5.1, Dolby Digital 2.0 for Bonus Content), French Canadian (Dolby Digital 5.1), and Latin American Spanish (Dolby Digital 5.1)
Run Time: 01:35:21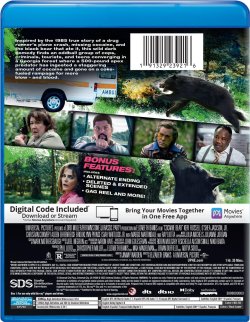 Last edited by a moderator: