Super Moderator
Super Moderator
Premium Supporter
Greetings friends! Don't you love it when Marvel pits two heroes against one another? So do we! Not only have these classic hero skirmishes gone on to become timeless stories, but have also given fans some the most iconic cover art from their respective ages. So with this, we decided to take two very classic Marvel covers that featured hero dust-ups and release them as limited edition fine art prints!
First, we enter the Silver Age and see Daredevil and Spider-Man having it out from the classic comic issue, Daredevil #16, (1966) with story by Stan Lee and cover art by John Romita and Frank Giacoia.
Round 2! We're leaping into the Modern Age and featuring maybe the best of the classic Marvel hero rivalries with The Incredible Hulk #340 (1988)! There has been a long-standing game of fisticuffs between Hulk and Wolverine and this cover by Todd McFarlane and Bob Wiacek depicts that quite perfectly, with a raging Hulk reflecting off Wolverine's adamantium claws! Both prints are Fine Art Giclees printed on acid-free paper with archival inks!
Daredevil #16 (1966) & The Incredible Hulk #340 (1988)
Goes On-Sale Tomorrow 8/6 @ 1 PM ET. in the GMA Shop!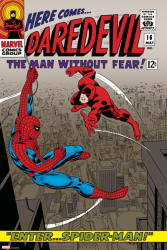 Daredevil #16 (1966) by John Romita & Frank Giacoia
16" x 24" Hand-Numbered Fine Art Giclee (Hot Press Bright)
Edition of 100
Printed by Grey Matter Printing
$45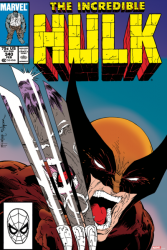 The Incredible Hulk #340 (1988) by Todd McFarlane & Bob Wiacek
16" x 24" Hand-Numbered Fine Art Giclee (Hot Press Bright)
Edition of 100
Printed by Grey Matter Printing
$45
Daredevil #16 (1966) & The Incredible Hulk #340 (1988)
Matching Number Set
16" x 24" Hand-Numbered Fine Art Giclee (Hot Press Bright)
Edition of 100
Printed by Grey Matter Printing
$80