Forum Support Manager
Super Moderator
Premium Supporter
Release date:
July 20, 2021
Purchase links:
Amazon
A
-
B
-
C
- Diabolik
A
-
B
-
C
Price:
$59.95
(Amazon)
- $38.99
(Diabolik)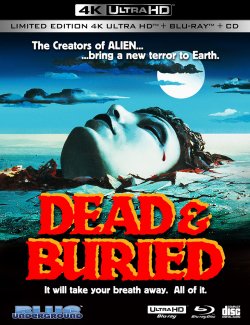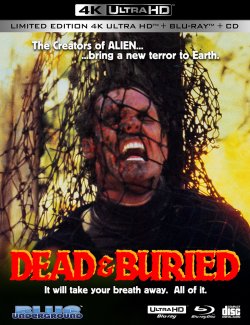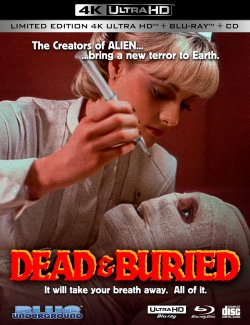 Audio: English: Dolby Atmos; English: 5.1 DTS-HD; English: 1.0 DTS-HD; French: 1.0 DTS-HD
Subtitles: English SDH, Français, Español
Extras:
Audio Commentary #1 with Director Gary Sherman
Audio Commentary #2 with Co-Writer/Co-Producer Ronald Shusett and Actress Linda Turley
Audio Commentary #3 with Director of Photography Steven Poster, ASC
NEW! Audio Commentary #4 with Film Historians Troy Howarth and Nathaniel Thompson
NEW! Behind the Scenes of Dead & Buried
NEW! Dead & Buried Locations: Now & Then
NEW! Murders, Mystery, and Music – Interviews with Director Gary Sherman and Composer Joe Renzetti
NEW! The Pages of Potters Bluff – Interview with Novelization Author Chelsea Quinn Yarbro
Stan Winston's Dead & Buried EFX
Robert Englund: An Early Work of Horror
Dan O'Bannon: Crafting Fear
Theatrical Trailers
NEW! Poster & Still Galleries
Steven Poster's Location Stills
BONUS!
DEAD & BURIED Original Motion Picture Soundtrack CD by
Joe Renzetti

BONUS!
Collectible Booklet with new essay by
Michael Gingold
Last edited: