Super Moderator
Super Moderator
Premium Supporter
"Dormammu, I've Come To Bargain."
Greetings, Friends. We've got a super fun release for you that is sure to bend the limits of the mind! We are pleased to bring you a Limited Edition Poster for the 2016 Marvel Studios Film, Doctor Strange from our good friend and UK artist,
Chris Thornley (Raid71)!
This visually stunning cinema exhibits a universe of infinite possibilities, and like the movie, this poster pushes the visual boundaries. Chris truly showcases his talents by combining the use of concept, color, and depth and gives us something we can really get lost in. He takes us to the climatic ending where Dr. Stephen Strange traps Dormammu in an endless time loop until he finally gives in. Doctor Strange is a 24x36 inch Screen Print and comes as a Foil with Black-light ink that truly highlight and accentuate the art and a Glow in the Dark Variant with Black-light ink that comes to life when the lights go out!
Doctor Strange - On Sale Thursday 02/25 @ 1 PM ET. in the GMA Shop!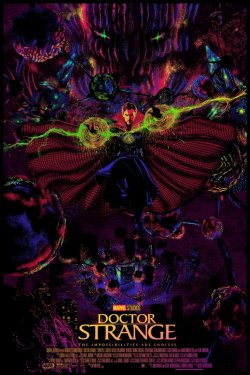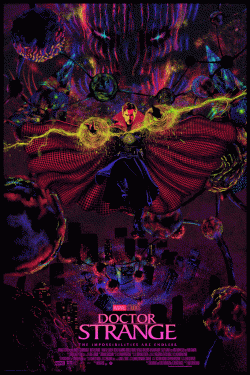 Doctor Strange Foil Edition
by
Chris Thornley (Raid71)
24" x 36" Screen Print (Holo-Foil Paper W/ Black-light ink)
Edition Size - 200
Printed by VG Kids
$50
(6 - 8 weeks estimated shipping)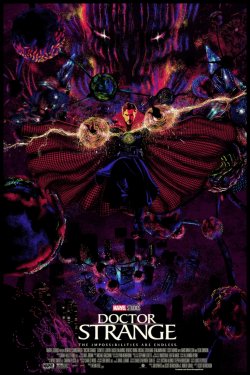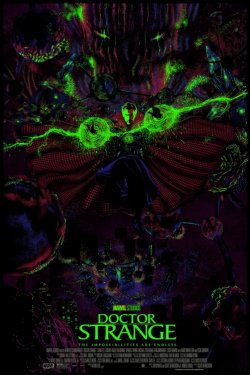 Doctor Strange GID Edition
by
Chris Thornley (Raid71)
24" x 36" Screen Print (GID W/ Black-light ink)
Edition Size - 125
Printed by VG Kids
$65
(6 - 8 weeks estimated shipping)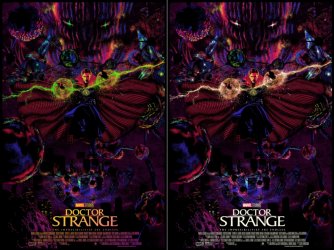 Doctor Strange Matching Number Set Edition
by
Chris Thornley (Raid71)
24" x 36" Screen Print
Printed by VG Kids
$105
(6 - 8 weeks estimated shipping)