Super Moderator
Super Moderator
Premium Supporter
The Most Cutting-Edge Star Wars HasLab Project Yet …
Star Wars
fans, get ready: The Black Series is introducing a HasLab project like no other!
You've seen how we've brought iconic
Star Wars
scenes to life with detailed LED Force FX Elite sabers. But this HasLab project is bringing fans something entirely new: The Black Series' first integrated
double-bladed Force FX Elite LIGHTSABER™
. This roleplay item comes with the features you love—including progressive ignition, blaster deflect, battle clash effect, and more. With the
coordinated attack technology
in the hilt and both blades installed, LED animation and effect sequences play out across the entire 6.5 feet lightsaber! Battle the Jedi™ with both blades at play or just one—you're in control.
When we first see her, it's a flash of a black uniform … a bright red blade … and a ruthless expression. This Force-sensitive villain is more than a match for the Jedi—and is an unforgettable new character in
Star Wars
entertainment.
Are you ready to help Inquisitor Reva on her mission?
For the first time in live-action entertainment, Inquisitor Reva and her double-bladed LIGHTSABER
™
made their debut in the
Star Wars
series
Obi-Wan Kenobi™
streaming only on Disney+. And only HasLab can bring her iconic lightsaber from onscreen battle scenes right into your hands.
Inquisitor Reva—also known as The Third Sister—is calculating, ambitious, and will stop at nothing to bring down the Jedi. Inquisitors were tasked by Darth Vader™ with a mission to destroy all children of the Force—giving them access to the Empire's latest technologies, including the double-bladed lightsaber. It features dual modes—single- and double-bladed—ideal for disorienting and incapacitating enemies.
Now's your chance to join the Inquisitors' ranks with a lightsaber built to destroy even the most skillful remaining members of the Jedi Order™. With this premium roleplay item, you can gear up like an Inquisitor and relive key moments and thrilling battle scenes from
Obi-Wan Kenobi
—imagine the storytelling possibilities!
Force-Powered Features​
Coordinated attack technology: Combining advanced LEDs and entertainment-inspired sound effects that can be applied across two integrated blades, the Inquisitor Reva LIGHTSABER™ is the most dynamic Force FX lightsaber yet.
Unique form factor: This lightsaber features both half- and full-circle configuration—complete with lights and sound effects—based on the Inquisitors' iconic lightsabers featured in the live-action Star Wars series Obi-Wan Kenobi streaming on Disney+
Size: With both blades attached, this massive lightsaber measures over 6.5 feet long!
Detailing: Down to the smallest details, we've designed an official double-bladed lightsaber like the ones you've seen across Star Wars entertainment—from its bright red light effects to its beveled hilt.
Includes display stand: Proudly display this lightsaber on the included metallic grey stand.
Includes rechargeable battery—so you'll have enough power to imagine thrilling adventures on the go.
Choose Your Battle Mode with Coordinated Attack Technology!​
Imagine all the features you've come to love from The Black Series Force FX Elite LIGHTSABER
™
—taken to the next level. With
coordinated attack technology
, you can trigger realistic effects separately
or
across both blades! This integrated innovation transforms you into a formidable Jedi hunter as you weave through attacks with one or both blades in play.
Choose between
half-circle and full-circle configuration with series-inspired sound and light FX
--so you're always prepared for the next attack
This crowdfunded project will run from May 27th 2022 7:30PM ET to July 11th 11:59PM ET. If successful, the project will begin shipping Fall 2023.
Target - 5,000 Backers
$499.99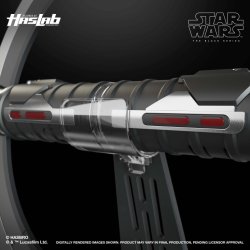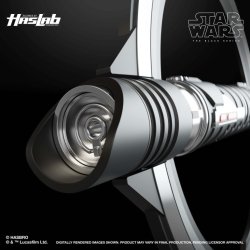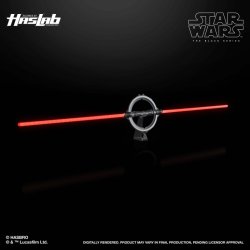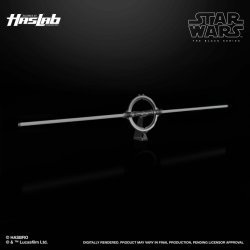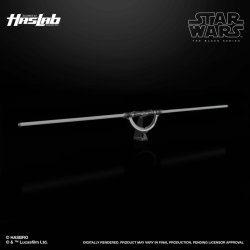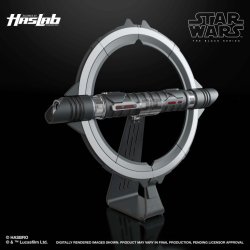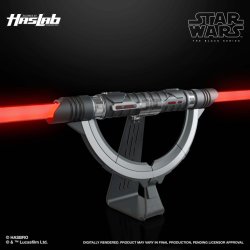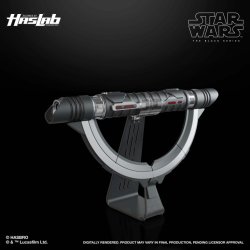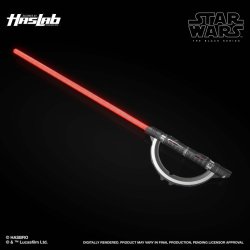 * Limit of 5 per customer. Standard shipping and handling to the contiguous United States included for Pulse Premium members. Shipping and handling charges will be calculated at the time of checkout for non-Pulse Premium Members. The Most Cutting-Edge Star Wars HasLab Project Yet … Star Wars...
hasbropulse.com
Last edited: