Super Moderator
Super Moderator
Premium Supporter
The highly anticipated
MY LITTLE PONY X Dungeons & Dragons
crossover collection set is now available for pre-order at multiple retailers!
CUTIE MARKS & DRAGONS
features five exclusive 4.5-inch Pony figures with soft outfit accessories, each inspired by an iconic D&D character class. The set also includes an official D20 die with MY LITTLE PONY-inspired design and the iconic Dungeons & Dragons ampersand logo plus a 4-panel Dungeon Master's screen featuring beautiful illustrations by artist Leesha Hannigan that will make fans' displays complete.
MY LITTLE PONY CROSSOVER COLLECTION: CUTIE MARKS & DRAGONS
(Ages 8 years & up/Approx. Retail Price: $59.99/Available for pre-order July 22 /Product ships Fall 2020)
Fandoms collide with My Little Pony Crossover Collection -- the first official expanded universe of My Little Pony mashup characters! Crossover Collection Cutie Marks & Dragons set combines the retro My Little Pony form with designs inspired by the worlds of Dungeons & Dragons. Set includes 5 figures, each inspired by an iconic class of D&D characters. These 4.5-inch ponies wear soft, removable outfits and come in special collectors' packaging. Makes a great gift for fans of the My Little Pony or Dungeons & Dragons brand. Set also comes with an exclusive D20 die and illustrated Dungeon Master's screen. These crossover accessories are awesome collectors' items for roleplayers and DMs. Turn the stories you know on their tails with the My Little Pony Crossover Collection.
This message contains information which may be confidential and privileged. Unless you are the intended recipient (or authorized to receive this message for the intended recipient), you may not use, copy, disseminate or disclose to anyone the message or any information contained in the message. If you have received the message in error, please advise the sender by reply e-mail, and delete the message. Thank you very much.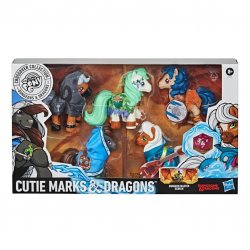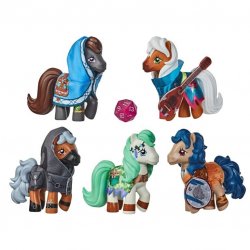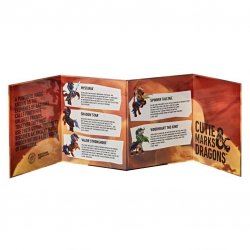 CUTIE MARKS & DRAGONS is currently available for pre-order through the following links. Please note, the toys will also be available at GameStop:
· Dorkside Toys -
https://dorksidetoys.com/collections/new-pre-orders/products/my-little-pony-cutie-marks-dragons-board-game
· Big Bad Toy Store -
https://www.bigbadtoystore.com/Product/VariationDetails/126665