[CONTAINER][MOVIE1]
Title:
High Rise (2015)
Genre:
[GENRE]Science Fiction[/GENRE], [GENRE]Action[/GENRE], [GENRE]Drama[/GENRE]
Director:
[DIRECTOR]Ben Wheatley[/DIRECTOR]
Cast:
[ACTOR]Tom Hiddleston[/ACTOR], [ACTOR]Sienna Miller[/ACTOR], [ACTOR]Jeremy Irons[/ACTOR], [ACTOR]Luke Evans[/ACTOR], [ACTOR]Elisabeth Moss[/ACTOR], [ACTOR]Reece Shearsmith[/ACTOR], [ACTOR]Peter Ferdinando[/ACTOR], [ACTOR]Daniel Renton Skinner[/ACTOR], [ACTOR]James Purefoy[/ACTOR]
Release Date:
[RELEASE]2015-09-21[/RELEASE]
Runtime:
[RUNTIME]112[/RUNTIME]
Plot:
In the midst of a vast ocean stands the Elysium Tower – a glistening vertical city – a sanctuary for challenging times. Powered by sun and earth, designed by the greatest architectural visionary of the new millennium, Elysium is a self contained world. A world of commerce, cuisine and entertainment, featuring restaurants, swimming pools, libraries, cinemas, even a research hospital. It is not just the tallest and most technologically advanced work of modern architecture, but one that embodies the world's highest aspirations. Dr. Robert Laing, a new arrival, settles in and adjusts to this hermetic life. But before long he becomes aware of something unsettling in the building. In an escalating atmosphere of unrest the residents break into tribal factions. Laing watches in horror as the myth of a utopian society is shattered.[/MOVIE1][POSTER1]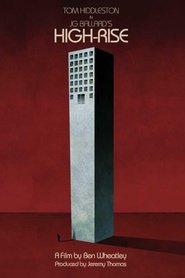 [/POSTER1][/CONTAINER]
High-Rise [2015]
Director : Ben Wheatley
Writers : J.G. Ballard based on his novel
Cast : Tom Hiddleston, Jeremy Irons, Sienna Miller, Luke Evans, James Purefoy
Plot : Life for the residents of a tower block begins to run out of control.
Last edited by a moderator: