High Tension
(2003) by french director Alexandre Aja celebrates its 4K world premiere on August 24, 2023 by PLAION Pictures Germany!
This 3-disc-set (1x 4K UHD, 2x Blu-ray) is availale in three artworks, whereas cover C is a shop exclusive one.
4K UHD with HDR 10 and Dolby Vision
Audio 4K UHD and Blu-ray DTS-HD MA 5.1 German/English, DTS-HD MA 7.1 French
These three artworks are available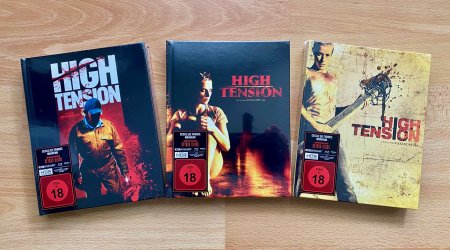 Unboxing video
Release date: Today August 24th, Germany.
Purchase 34,99€
Cover A
Amazon product
Cover B
Amazon product
Cover C (shop exclusive)
High Tension (Mediabook C, 4K-UHD+2 Blu-rays) (exkl. Shop) | Mediabook C | 1123933
Cover A and B are also available at JPC.de