Super Moderator
Super Moderator
Premium Supporter
We've got a few posters this week that we are thrilled to release. The first is Matt Ryan Tobin's wonderful take on HUNTERS, the new Amazon series from Jordan Peele. The show is set in 1970's New York and follows a team of Nazi hunters that band together to prevent the rise of the Fourth Reich in America. We are huge fans of Jordan's work and have loved the episodes we've seen so far. Definitely check it out if you get a chance as it's a pretty outrageous and excellent throwback to '70s exploitation.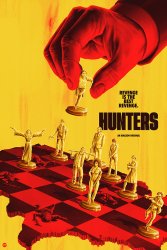 HUNTERS by Matt Ryan Tobin.
24" x 36" Screenprinted Poster. Hand numbered. Edition of 100. Printed by DL Screenprinting.
Expected to Ship in May 2020. Ships Worldwide.
$50