Super Moderator
Super Moderator
Premium Supporter
We're dedicating Thursday to a party mix style release featuring the following artists: Matt Ferguson, Rockin' Jelly Bean, Jason Raish, and Matt Griffin!
First up, Matt Fergsuon journeys back to 1989 for the third Indy movie, Indiana Jones and the Last Crusade! The Last Crusade is a more upbeat, father-son adventure film, that builds on Indy's history, and Matt's chosen to portray Indiana, Henry, and Sallah mid-swashbuckling adventure.
All of these prints will be available for purchase Thursday (10/15) @ 12PM ET on our homepage, Bottleneckgallery.com!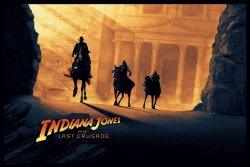 Illumination (Indiana Jones and the Last Crusade)
by
Matt Ferguson
Screen print
36 x 24 inches
Hand-numbered edition of 200
$50
Estimated to ship in 4 - 6 weeks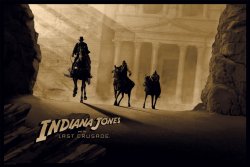 Illumination
(Indiana Jones and the Last Crusade) - Variant
by
Matt Ferguson
Screen print with metallic gold ink
36 x 24 inches
Hand-numbered edition of 100
$60
Estimated to ship in 4 - 6 weeks