Super Moderator
Super Moderator
Premium Supporter
Greetings, friends! We are thrilled to finally show this weeks release and super happy to announce our first time ever working with artist and illustrator,
Sam Gilbey!
We have been a fan of Sam's work for quite a while now and it truly excites us to have the opportunity to collaborate on this as well as future projects! Seeing Sam tackle Into the Spider-Verse was a real enjoyment. His style and attention to detail really comes together by combining the many elements that made this movie so memorable. In addition to Sam's Poster, we are very pleased to feature a new piece of Spider-Verse concept art from the movie, presenting all our heroes against the colorful backdrop of the city. Both posters are fine art archival Giclees, printed on acid-free paper with archival inks that fans and collectors alike can hang on their wall and admire!
Into the Spider-Verse by Sam Gilbey & Concept Art Goes On Sale Tomorrow 12/10 @ 1 PM ET. in the GMA Shop!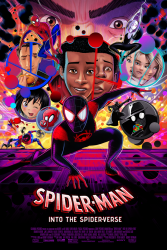 Into the Spider-Verse by Sam Gilbey
16" x 24" Hand-Numbered Fine Art Giclee (Hot Press Bright)
Edition of 125
Printed by Grey Matter Printing
$45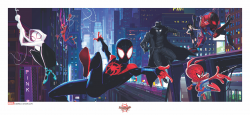 Into the Spider-Verse Concept Art
24"x11" Hand-Numbered Fine Art Giclee (Hot Press Bright)
Edition of 125
Printed by Grey Matter Printing
$45
Into the Spider-Verse Matching Number Set
Hand-Numbered Fine Art Giclee (Hot Press Bright)
Edition of 125
Printed by Grey Matter Printing
$80