Super Moderator
Super Moderator
Premium Supporter
This Wednesday, Brian Reedy takes us to Skull Island while Patrick Connan takes us to the block!
Brian's newest woodblock print features the King himself, Kong, reigning supreme over an island of prehistoric creatures. Brian's meticulously detailed woodblock prints are fascinating to pore over, each new project with him brings bigger and badder results!
Patrick's print for Joe Cornish's sci-fi cult classic, Attack the Block, shows off John Boyega's breakout role as Moses, preparing for ninja action against a hoard of ruthless aliens. Attack the Block remains a brilliantly overlooked gem, and we're happy to co-release this print with Vice Press.
In addition, we've got two rad new Attack the Block inspired pins from Florey!
Brian and Patrick's prints, and Florey's pins, will be available on Wednesday (9/30) @ 12PM ET on our homepage, Bottleneckgallery.com!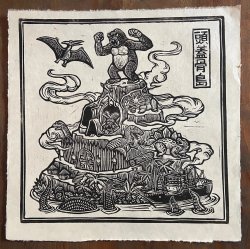 King of the Mountain
by
Brian Reedy
Linocut print on lokta paper with hand-deckled edges
~20.5 x 20.5 inches
Signed and hand-numbered edition of 150
$75