Super Moderator
Super Moderator
Premium Supporter
We're on the brink of adventure, children. Don't spoil it with too many questions.
Tomorrow, in collaboration with our friends over at Cyclops Print Works, we will have a new poster for MARY POPPINS RETURNS by Jack Hughes!
Available tomorrow, December 4th at 11 AM (CT) via
The Drop
.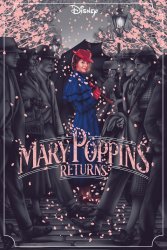 Mary Poppins Returns Screenprinted Poster
Artwork by Jack Hughes
$60
Product Information
Edition Size 185
24"X 36"
Printer DL Screenprinting
"As a born and bred Londoner, I looked to my city for inspiration. Sadly, the chicken bone-littered streets of Shoreditch offer a different type of charm when compared to the blossom-filled cobblestones of Kensington and Chelsea.
One of my favourite aspects of the sequel was seeing 1930s London at the height of art deco. Instead of taking inspiration from the city, I researched 1930s posters. None felt appropriate to the movie and faithful to my style. I suddenly realised that one of my favourite illustrators, René Gruau, was working as a professional illustrator in the 1930s. One illustration in particular, a cover for Adam magazine, caught my eye. Featuring a crowd of stylish people about their daily business, a glamorously dressed woman dominates the middle ground.
From that inspiration, I set to capture London in the 1930s with a subtle suggestion to the magic we've come to know and love from Mary Poppins." -- Jack Hughes