Hi guys, It has been a while since I have had a man cave after coverting my study/man-cave into my daughters room and moving my PC and shelving into the living room. It has involved a lot of horded items being thown away, organising and disposing of a lot of paperwork and files etc etc.
My plan was to make use of the 2 alcoves in my living room for shelving my Steelbook collection, some files and books, as well as a desk for my PC and to house my Home Theatre equipment.
After getting many quotes from various companies that make custom built shelving for alcoves I settled on a company called "The London Alcove Company". I would say they are more of a premium company and I didn't want to settle for anything less due to the quality and nice finish of their work. They are fairly expensive, for me anyway, so I settled on installing one alcove unit at a time.
The first was actually installed last year and was to the left of the chiney breast, this was to take care of my PC. I had to keep over half my steelbook collection in storage as the 4 shelves here were dedicated to the premium releases.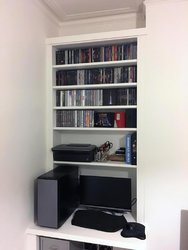 This is the unit close to after installation. It has got a bit cluttered since then

The right alcove has only just been installed and houses my media centre and is utilising 5 shelves for steelbooks and blurays, one for books, and another for files. The top shelf I have displayed my Blufans boxsets and just under the actual steels focussing on Marvel releases.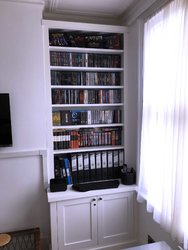 I currently have an LG 42" LCD 3D TV mounted on the chimney breast. Unfortunately I had to use trunking to hide the cables and this was due to when I had the living room re-decorated I did not get the builders to route out cable channels into the chimney breast (oh well my bad), so it doesn't give such a clean look that I want but I will have to live with it now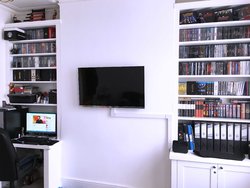 Since having the living room decorated, I had planned these alcoves to house my collection and be my all-round entertainment section of the room, and it still has work to go. I still want to add a bridging unit over the TV for more shelving as still these 2 units do not comprise of my whole steelbook collection. I want to get a new TV at the end of this year which has 3D and 4K if there are any still available with a Sound Bar, and I want to build a more compact mini-ITX PC to free up more space on my desk and to have a VR ready system as I want to get the HTC VIVE also LOL

I will update as I slowly upgrade and add to the area so keep your eyes peeled, it all depends on moeny at the end of the day, so slowly slowly will get there

What do you guys think so far? It still is a work in progress, any suggestions?

4

1