Release date:
October 7, 2022
Purchase links:
Turbine Media
Edition A
-
Edition B
-
Edition C
Price:
€34.95
Notes:
Worldwide UHD premiere. 3 (1x UHD, 2x Blu-ray) - Edition A (1000) - Edition B (333) - Edition C (500)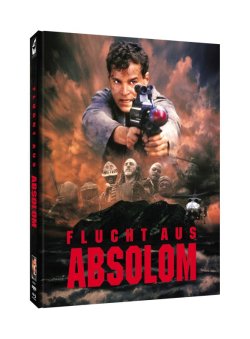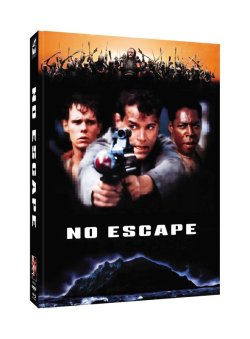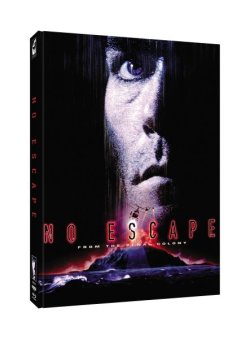 Press Release:
NO ESCAPE aka ESCAPE FROM ABSOLOM coming in three limited UHD mediabook editions

On October 4th we'll release NO ESCAPE aka ESCAPE FROM ABSOLOM on UHD Blu-ray with Dolby Vision, Dolby Atmos and Auro 13.1. Produced by Gale Anne Hurd (TERMINTOR, ALIENS and THE WALKING DEAD) and directed by action master Martin Cambell (CASINO ROYALE), the late Ray Liotta is on top form...
In 1994, when NO ESCAPE was made, 2022 was mere science fiction, because that's exactly the year in which the film is set. Now we look back - 28 years - and see an action thriller that has held up pretty darn well, with an insane cast and fabulous hand-made action and stunt work before the computers took over special effects in Hollywood.
In addition to the UHD and a Blu-ray with the film, the set includes a bonus Blu-ray with new and exclusive interviews!

NEW! Tropical Thunder - Directing NO ESCAPE with Martin Campbell (HD, 23 Mins)
NEW! She Will Be Hurd! - Gale Anne Hurd discusses her genre gems (HD, 27 Mins)
NEW! Landscapes Of Escape - Phil Meheux on the sizzling cinematography of NO ESCAPE (HD, 31 Mins)
NEW! Anxiety Island - The stunt work of Conrad E. Palmisano (HD, 46 Mins)
NEW! Prisoner Of Prose - Joel Gross on the Penwork of NO ESCAPE HD, (18 Mins)
The Making of NO ESCAPE (Vintage Featurette) (HD, 28 Mins)
Promo Featurette (6 Mins)
Trailers & TV Spots

There are optional English and German subtitles for the feature and the bonus material.
Tech Specs:

Audio:
German Dolby Atmos
English Dolby Atmos
German Auro 13.1
English Auro 13.1
German DTS 2.0 (Stereo)
English DTS 2.0 (Stereo)
Englisch DTS HD MA 2.0 (Stereo)
Image:
2.40:1 (2160p24 Ultra HD - with HDR/Dolby Vision), 2.40:1 (1080p24 Full HD), 1.78:1 (1080p24 Full HD)
Subtitles
: German, Englisch
Runtime
: 118 Minutes
Bonus Material:
Theatrical trailers DE & USA (HD)
US-TV-Spots
Legends of Absolom - New Interviews:

Tropical Thunder - Directing NO ESCAPE with Martin Campbell* (HD, ca. 23 Min.)
She Will Be Hurd! - Gale Anne Hurd discusses her genre gems* (HD, ca. 27 Min.)
Landscapes Of Escape - Phil Meheux on the sizzling cinematography of NO ESCAPE* (HD, ca. 31 Min.)
Anxiety Island - The stunt work of Conrad E. Palmisano* (HD, ca. 46 Min.)
Prisoner Of Prose - Joel Gross on the Penwork of NO ESCAPE* (HD, ca. 18 Min.)

Making of Documentary* (SD, ca. 28 Min.)
Promo Featurette* (SD, ca. 6 Min.)
Book about Making the Movie (in German)
*with optional English & German subtitles
Last edited by a moderator: