Super Moderator
Super Moderator
Premium Supporter
We're dedicating Thursday to a party mix style release featuring the following artists: Matt Ferguson, Rockin' Jelly Bean, Jason Raish, and Matt Griffin!
Rockin' Jelly Bean's been at the forefront of pop culture and eroticism for a while now, and Roller Boogie Night has everything RJB fans have come to expect, right down to an adorable cat.
All of these prints will be available for purchase Thursday (10/15) @ 12PM ET on our homepage, Bottleneckgallery.com!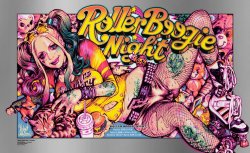 Roller Boogie Night
by
Rockin' Jelly Bean
Screen print on foil paper
32 x 19.5 inches
Hand-numbered edition of 175
$85
Estimated to ship in 4 - 6 weeks