Super Moderator
Super Moderator
Premium Supporter
Sorry guys. Dropped the ball on this
Greetings, True Believers! We have an especially fun announcement for you all and it truly excites us to finally be able to reveal this one. We teamed up with our good friend and UK artist,
Chris Thornley (Raid71)
for the
2018 animated masterpiece, Spider-Man: Into the Spider-Verse! Chris transports us to the climax of the film where our Spidey Heroes face their final showdown. He takes the many elements that made this movie special and combines them together to deliver this brilliant work of art. From Chris's epic composition and gorgeous color choices to his use of halftones and the always dazzling "Kirby Krackle" is enough to get any comic fans spidey senses tingling! This 24 x 36 - inch screen-printed poster comes in two Editions, a Foil Edition that highlights and accentuates beautifully and a Paper Variant that lends to a more classic comic book look and feel!
Spider-Man: Into the Spider-Verse by Chris Thornley (Raid71) Goes On Sale Today (8/13) @ 1 PM ET. through Sunday (8/16) @ 11:59 PM ET. in the GMA Shop!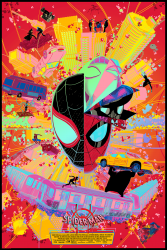 Spider-Man: Into the Spider-Verse
by
Chris Thornley (Raid71)
Hand-Numbered Timed Edition
24" x 36" Screen Print (Holo-Foil Paper)
Edition size will be determined by the number of prints sold through
Sunday (8/16) @ 11:59 PM ET
Printed by VG Kids
$50
(6 - 8 weeks estimated shipping)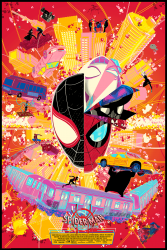 Spider-Man: Into the Spider-Verse Paper Variant
by
Chris Thornley (Raid71)
24" x 36" Hand-Numbered Screen Print
Edition of 75
Printed by VG Kids
$60
(6 - 8 weeks estimated shipping)