Super Moderator
Super Moderator
Premium Supporter
This weekend at MondoCon in Austin, we got together to watch SPIDER-MAN: INTO THE SPIDER-VERSE where we premiered a multiverse shattering poster by Martin Ansin. If you couldn't attend, all is well because we are so stoked to offer the regular version of Martin's poster as a timed edition... and it's available right now! Martin is one of the best illustrators and graphic designers working today, and his work on this poster is completely unmatched. He's done an incredible job celebrating the film's absolutely stunning visual language and instantly beloved characters. We absolutely adore this film and couldn't be more proud of our first poster for it.
SPIDER-MAN: INTO THE SPIDER-VERSE by Martin Ansin is
Available Now through Wednesday (9/18) at 11:59 PM (CT)
. Swing over to
mondotees.com
to grab yours before the poster disappears back to its own dimension.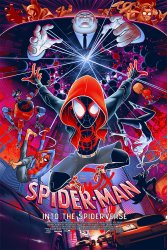 SPIDER-MAN: INTO THE SPIDER-VERSE
by Martin Ansin. 24"x36" Screenprinted Poster. Printed by DL Screenprinting.
TIMED EDITION - until Wednesday, 9/18 at 11:59 PM (CT)
. Expected to Ship in October 2019. Ships to US and
Select Countries Internationally
. $60