Super Moderator
Super Moderator
Premium Supporter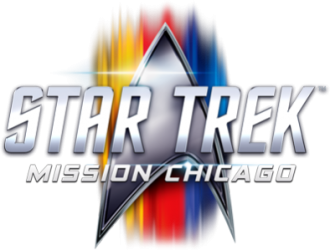 Star Trek Missions
McCormick Place, Chicago
April 8 -10, 2022
Star Trek Missions
ReedPop, the world's leading producer of pop culture events, announced today that they are joining forces with ViacomCBS Consumer Products as the official convention partner for the Star Trek franchise. The partnership will kick off in 2022 with an all-new event that will serve as the ultimate destination for fans of the iconic franchise - Star Trek: Mission Chicago. Produced in partnership with ViacomCBS Consumer Products, Star Trek: Mission Chicago is a three-day immersive experience that will take place at Chicago's McCormick Place Convention Center from April 8 - 10, 2022.
Star Trek: Mission Chicago will feature celebrity guests, interactive exhibits, exclusive merchandise, photo opportunities, costume exhibits, autograph sessions, gameplay and other special surprises all set within the ever-evolving and expansive Star Trek Universe. Mission Chicago will give fans the opportunity to boldly explore the past, present and future of the franchise, while embracing the ideals of a diverse and inclusive future that remains at the center of Gene Roddenberry's beloved creation.
Following the inaugural event in Chicago, future Star Trek: Missions will travel to a new city each year, offering thousands of fans around the country the opportunity to convene with fellow Star Trek lovers and celebrate the iconic franchise.
"The Star Trek franchise has one of the most passionate and spirited fan bases out there, and we at ReedPop are excited to welcome them and ViacomCBS Consumer Products into our family," said Lance Fensterman, Global President of ReedPop. "Together we plan to give the fans an incredible experience to remember and I speak for all of us at ReedPop when I say that we can't wait to experience the energy that Star Trek fans will bring to Chicago next April."
Veronica Hart, executive vice president, global franchise management, ViacomCBS Consumer Products added, "As the Star Trek franchise continues to grow and evolve, so too is our convention business evolving. We are excited to partner with ReedPop as our official Star Trek convention partner to take this next step in creating an event that will introduce the Trek experience to loyal and new fans alike each year."
For more information and updates on Star Trek: Mission Chicago, please visit
www.startrekmissions.com
and follow the event on Twitter, Instagram and Facebook.