Pop!/Movies/TV Mod
Moderator
Premium Supporter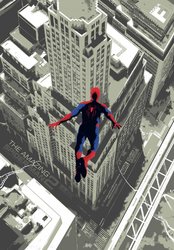 The new IMAX FANFIX ™ for The Amazing Spider-Man 2 is here with all the web-slinging Spider-Man action that you can only expect from Spidey. Today, Fandango debuted the IMAX FANFIX which has fans everywhere raving.
Check it out on Fandango and purchase your tickets to the first showing* to be the first to see the movie and to take home this exclusive print.
The artwork by UK-based artist Matt Taylor
* First-showing distribution of prints in North America only. For international fans, please check with your local exhibitor to find out which showing will include the IMAX FANFIX print.
Last edited by a moderator: