Super Moderator
Super Moderator
Premium Supporter
Thank the Ancients for Jon Favreau. Not only is he one of the key figures responsible for launching the MCU and the filmmaker that gifted us with one of the best modern Christmas classics, but he is a bonafide STAR WARS master and one of the primary forces behind the excellent series: THE MANDALORIAN. Set sometime between the fall of the Empire and the rise of the First Order, the show follows a lone warrior and bounty hunter as he navigates the outer reaches of an all too familiar galaxy. The show proudly wears its influences on its armor - from Leone's Westerns to Samurai epics - and we fell in love with every gritty detail from week to week. From Ludwig Göransson's incredible score to Pedro Pascal's stoic performance as the titular Mandalorian, everything just sort of clicked in the best way. But there was one character who simply transcended it all: The Child.
Together with
Acme Archives
, we are happy to have teamed up with Rory Kurtz on a new poster for this instantly iconic new character to STAR WARS lore. Titled "The Bounty," Rory has beautifully brought life to one of THE MANDALORIAN's most captivating new characters, and will be available as a
Timed Edition starting Friday, February 21 at 11AM CT and running through Monday, February 24 until 11:59PM CT
. In addition to the timed edition release, we will also offer a limited edition 5"x7" graphite variant of Rory's artwork.
From Rory, "I can't say exactly when my feelings toward The Child turned from hesitant curiosity, to full on fan obsession. I had started this small original drawing for the sheer fun of it, just two or three episodes into THE MANDALORIAN, and before even finishing it, I was just as ecstatic for The Child as everyone else seemed to be. Something about the child's original trilogy design, and live real world puppeteering just brings so much more to the character than another forgettable CGI creation. That, and the certain mysterious understanding in it's giant glassy eyes. The entire series is such a great addition to STAR WARS canon, and season two can't come soon enough."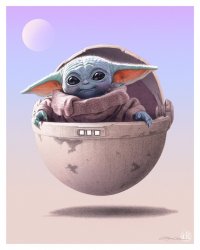 "The Bounty" by Rory Kurtz
8" x 10" Giclee Print; Signed by Rory Kurtz
TIMED EDITION - Available until 11:59pm on 2/24
Printed by Static Medium
Expected to Ship May 2020
Ships Worldwide
$35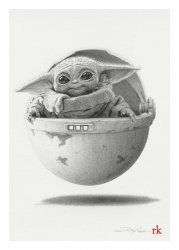 "The Bounty" (Variant) by Rory Kurtz
5" x 7" Giclee Print, Edition of 175
Printed by Static Medium
Expected to Ship May 2020
Ships Worldwide
$35