Contributor Steels/Arrow
Contributor
Premium Supporter
Release Date:
1st August ,2016
Purchase Links:
Arrow Films
Price: £49.99
Dual Format Blu-ray/DVD
Limited Edition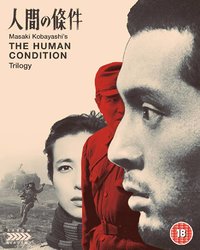 "Kobayashi's monumental film can clarify and enrich your understanding of what it is to be alive."
(A.O. Scott, New York Times)
One of the towering masterpieces of Japanese and world cinema, this three-part war epic has rarely been seen in the UK, at least partly because of its dauntingly gargantuan nine-hour length.
Director Masaki Kobayashi (Harakiri) was attracted to Junpei Gomikawa's source novel because he recognised himself in the character of the protagonist Kaji, a pacifist and socialist who came of age during the aggressively militaristic 1930s and 40s. Following Kaji's career from factory worker to Japanese army private, Kobayashi unflinchingly examines the psychological toll of appallingly complex decisions made along the way, where being morally 'right' risks an outcome ranging from ostracism to savage beating to death.
As Kaji, Tatsuya Nakadai (Sanjuro) is in virtually every scene, providing a rock-solid emotional anchor – and a necessary one in Japan, where the film was hugely controversial for being openly critical of the nation's conduct during WWII. But it's this willingness to confront national taboos head-on that makes it such a lastingly powerful experience.
SPECIAL EDITION CONTENTS
High Definition Blu-ray (1080p) and Standard Definition DVD presentations
Original Japanese soundtrack (uncompressed mono on the Blu-ray)
Optional English subtitles
Introduction to the film by critic Philip Kemp
Selected-scene commentary by Philip Kemp
Theatrical trailers
Booklet with new writing on the film by David Desser
Last edited: