Super Moderator
Super Moderator
Premium Supporter
Here's an uncontroversial opinion: John Carpenter's 1982 film THE THING is a masterpiece of storytelling and practical effects. It's astonishing how good it is (and continues to be), one of the exceedingly rare remakes that far supersede the original.
In this new poster design by 100% Soft, aka Los Angeles-based artist Truck Torrence, you get a delightful juxtaposition between the horror and violence of the film filtered through Truck's brilliant pop art/kawaii style. Like his earlier posters for ALIEN and DIE HARD, Truck's bird's eye view and rendering of the many horrors that befall Outpost 31 will never get old.
If you love John Carpenter's THE THING, this poster is for you. Available tomorrow via
The Drop
.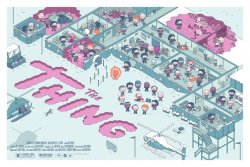 The Thing Screenprinted Poster.
Designed by 100% Soft. Printed by Lady Lazarus. 36"x24". Edition of 275.
Ships to the United States and other countries. Expected to ship September 2020.
$50.