Super Moderator
Super Moderator
Premium Supporter
As we come out of MondoCon we wanted to make sure everyone had their chance to get one
of our favorite posters of the weekend: TRUE ENEMY by Rory Kurtz! Rory worked tirelessly to bring the iconic fight scene in Snoke's throne room from STAR WARS: THE LAST JEDI to life, and I think
we can all agree he thoroughly delivered. Rory is easily one of the best poster artists and illustrators working today and this poster is a perfect summation of why. Beautifully illustrated and composed, he has done an incredible job capturing the kinetic energy of the scene as Rey and Kylo Ren team up against Snoke's Elite Praetorian Guard. This gorgeous 14-color screenprint will be printed by the masters over at DL Screenprinting to ensure it is of the highest caliber.
This Timed Edition poster is
Available Now
at
mondotees.com
until
Wednesday 9/18 at 11:59 PM (CT)
.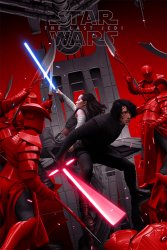 "True Enemy" (Star Wars: The Last Jedi)
by Rory Kurtz. 24"x36" Screenprinted Poster. Printed by DL Screenprinting.
TIMED EDITION - until Wednesday, 9/18/19 at 11:59 PM (CT).
Expected to Ship in October 2019. Ships Worldwide. $100