Contributor Steels/Arrow
Contributor
Premium Supporter
Release Date:
14th March 2016
Purchase Links:
Arrow Films
Price:
£15.99
Amazon UK
Price:
£19.99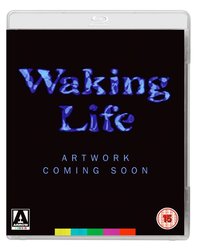 Dual Format Blu-ray + DVD
DREAM IS DESTINY
In 2001 writer-director Richard Linklater released a spiritual sequel to his acclaimed early features Slacker and Before Sunset. Taking its cue from their walk-and-talk stream of consciousness, Waking Life enquired into the relationship between dreams and the big screen, and how cinema captures the phantasy state.
Aiding Linklater's exploration were two major players: actor Wiley Wiggins (Dazed and Confused, Computer Chess), who acts as our guide through the dreamscape, and animator Bob Sabiston, who created the appropriately disassociated, floating rotoscoped visuals. He and Linklater would later collaborate again on A Scanner Darkly to equally stunning effect.
Featuring Adam Goldberg, Nicky Katt, Julie Delpy and Ethan Hawke (reprising their Jesse and Céline characters from Before Sunset) and director Steven Soderbergh, Waking Life is an extraordinary thought-provoking trip, quite unlike anything before or since.
SPECIAL EDITION FEATURES
•High definition Blu-ray (1080p) and Standard Definition DVD presentations
•Original 5.1 DTS-HD Master Audio
•Optional subtitles for the deaf and hard-of-hearing
•Commentary by writer-director Richard Linklater, art director Bob Sabiston, actor Wiley Wiggins and producer Tommy Pallotta
•Commentary by the 25-strong animation team
•A selection of Bob Sabiston's short films, including The Trees (1991), Project Incognito (1997), Snack and Drink (1999), Figures of Speech (1999), Grasshopper (2003), Ryan's Capitol Tour (2006) and The Even More Fun Trip (2007)
•Original 'making of' featurette including interviews with Linklater, Sabiston and Pallotta
•Animation tutorial with Sabiston
•Deleted and alternative animation sequences
•Pre-animation live action footage captured on Mini DV
•Trivia subtitle track written by Linklater
•Theatrical trailer
The first pressing also includes a booklet containing new writing on the film by critic David Jenkins and a guide to Bob Sabiston's short films
Last edited: