*DING DING DING* YOU GUYS ARE WINNERS @Fetus Deletus and @TheStixter!!
"Prepare to feel the wrath of the League of Evil Exes!"
When
Scott Pilgrim vs. the World
hit cinemas in Australia, I begged some guys I knew who had a hand in marketing and promoting the movie for some swag. This is all I got:
Scott Pilgrim vs. The World
Australian Movie One Sheet (I've got 2 of these to giveaway too!)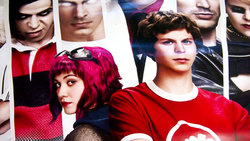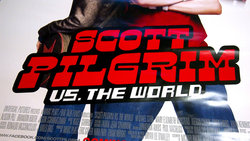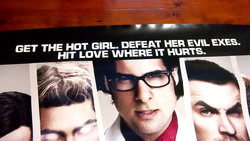 These are proper movie posters for the lightboxes in cinemas. They've just been sitting in storage and I have nowhere to put them up so for this Ninja Week I'm putting my hoarding on hold and letting these go to a better home. Keep in mind they've just been rolled up in a corner, so they're not in mint perfect condition; there's some creases here and there, but overall they're fine.
WHAT DO I GOTTA DO TO WIN??
First up, give the post a
Thumbs Up

to show how lesbians you're in with this giveaway. Then answer the following:
If you had a League of Evil Exes, who'd you want as the final boss someone would have to defeat to go out with you?
HOW LONG DOES THE GIVEAWAY LAST?
All week long! 19th - 25th February. Because of all the time zone mumbo jumbo I'm a day ahead of most members here so give me some time to work out a proper time.
HOW'S SHIPPING WORK?
On the off chance you're from Australia, I'll post it to you free of charge. Otherwise, I'll split shipping costs with the winner 50/50. It'll roughly be about $15AUD
CAN ANYBODY JOIN?
Yep, all registered members can take part in the giveaway

AND HOW ARE THE WINNERS CHOSEN?
Absolutely randomly

Also check out my Running Outta Time Giveaway where you can win a brand new FilmArena Collection Looper Steelbook!
Last edited: