Staff/Community Manager
Staff Member
[MOVIE1]
Title:
Justice League (2017)
Tagline:
Lets Make a Deal
Genre:
Fantasy
,
Science Fiction
,
Action
,
Adventure
Director:
Zack Snyder
Cast:
Henry Cavill
,
Ben Affleck
,
Jason Momoa
,
Gal Gadot
,
Ezra Miller
,
Amy Adams
,
Ray Fisher
,
Amber Heard
, J.K. Simmons, Jeremy Irons, Diane Lane, Billy Crudup and more...
Plot:
Fueled by his restored faith in humanity and inspired by Superman's selfless act, Bruce Wayne enlists the help of his newfound ally, Diana Prince, to face an even greater enemy. [/MOVIE1][POSTER1]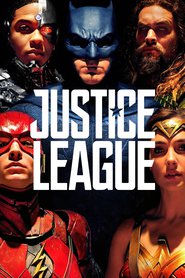 Per Firstshowing:
Rumors of a big screen adaptation featuring DC Comics' superhero ensemble Justice League have been running rampant since Marvel unveiled their plans for The Avengers. Some have even gone so far as to say a film might even get off the ground without signature heroes like Superman and Batman (which makes sense since Christopher Nolan's universe for Batman doesn't lend itself to the more fantastical existence of Justice League). Now those rumors have some fuel for the fire as LA Times (via The Playlist) recently ran a profile on Warner Bros. new president Jeff Robinov and fleetingly mentioned that a Justice League movie would be coming in 2013.

First of all, let's take this with a huge grain of salt. If a Justice League film was being planned secretly, it's highly unlikely it would be leaked so casually. It's even more unlikely that this was how the plans (if they even exist) were supposed to be revealed. This is either the result of some tragically crossed wires or speculative reporting.

Sure Green Lantern is hitting theaters this summer, but the status of The Flash is still up in the air, and it's pretty unlikely that the film would make a 2012 release date. Considering The Dark Knight Rises doesn't hit theaters until next summer and filming commences this May, that same timeline for The Flash wouldn't work simply because they don't even have a cast, let alone a completed script. And let's not forget about the complete lack of Wonder Woman or Martian Manhunter. No, no, none of this makes any sense at all!

Like I said, this is probably all just a big mistake and should be treated as nothing more than a big rumor. However, the prospect of DC Comics trying to put together a superhero ensemble to keep themselves alive and kicking alongside Marvel's booming film studio isn't a crazy idea. Honestly, I don't think it's a matter of if a Justice League movie gets off the ground, but moreso a matter of when. Calling for a 2013 release seems to be shooting for the moon, but maybe Warner Bros. has some kind of magical ace up their sleeve. What do you think?

UPDATE: Well, Hero Complex (a blog from the LA Times) has tossed up a new story about this Justice League scoop, and it's seems quite legitimate now. They confirm that Robinov's top priority is finally getting Justice League into theaters by 2013. So the question is how will he pull this off?

The first hurdle is Christopher Nolan's Batman not being able to fit into the Justice League universe. The WB president already has a plan for that as he says, ""We have the third Batman, but then we'll have to reinvent Batman." To clarify, the reporter asks Robinov if he plans to reboot the Batman franchise after The Dark Knight Rises and he responds without hesitation, "I do. Chris Nolan and [producing partner and wife] Emma Thomas will be producing it, so it will be a conversation with them about what the next phase is." Wow! That's a pretty big deal.

So what about the other heroes? There's no time to get The Flash or Wonder Woman in their own films off the ground before a Justice League film hits in 2013. Apparently the heroes would be spun off into their own films after the DC Comics superhero ensemble is put together. Robinov isn't even concerned about a new Wonder Woman TV series being developed as he says, "Wonder Woman could be a film as well, the same way that Superman Returns came out while 'Smallville' was on." I guess he has it all figured out.

So it sounds like Green Lantern really will be a big first step towards Justice League and Warner Bros. does have realistic plans to get the DC Comics' superhero team together. Can they really pull it off for a 2013 release though?
[/spoiler]
Last edited by a moderator:
4

3