Super Moderator
Super Moderator
Premium Supporter
Tomorrow we'll be releasing a distinctly uncommon combo of posters, with a new 2001: A SPACE ODYSSEY poster that serves as a companion and follow-up to Matthew Woodson's original 2001 poster from a few years ago. The cosmic monolith joins three winter/holiday-themed PEANUTS posters celebrating the art of the great Charles Schulz.
All four will be available Thursday 12/17 at 11am on
The Drop
. And in case you missed it, the timed edition of Rory Kurtz's Mandalorian portrait,
THE WAY
, is available now until Thursday, 12/17 at 11:59pm CT.
"In both the original novel and the film adaptation, the monolith exists as an unfathomable constant, an unwavering looming alien, a doorway to the unknown — or everything that could be known. With this poster, I wanted to evoke how the monolith echoes through time/consciousness. My previous
2001
poster was a love letter to the monolith itself. While this poster is a tribute to the Tycho crater scene in the film, the continuation of the theme and composition from one poster to the next is a love letter to the persistence of the monolith. Be it three years later or 535.69 million miles away, the monolith remains ever-constant, waiting to be rediscovered."
- Matthew Woodson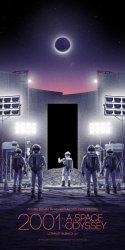 2001: A SPACE ODYSSEY (TMA-1) Screenprinted Poster.
Art by Matthew Woodson. Printed by DL Screenprinting. 18"x36". Edition of 325.
Expected to ship in February 2021. Ships to US, Japan, Puerto Rico, Guam, US Virgin Islands.
$65.