Hello Ninjas,
I have been a steelbook collector since 2010 from Canada. I am selling my steelbooks as I am running out of space. I will add more as time goes on. I tried to price them competitively against Ebay. Offers are welcome if you're buying more than one. Please no lowball offers.
All listed prices exclude PayPal fees and shipping. Please PM for shipping quote. Will ship worldwide.
All steelbooks are new and in mint condition unless otherwise specified. Happy to provide extra photos before purchase.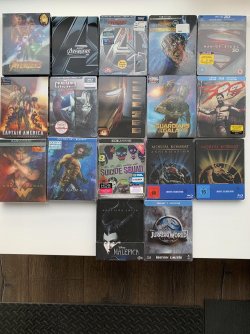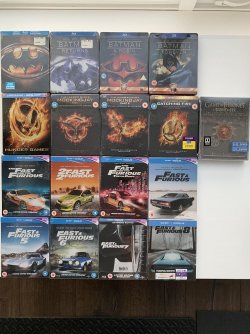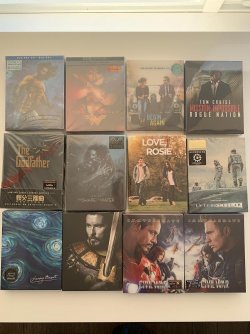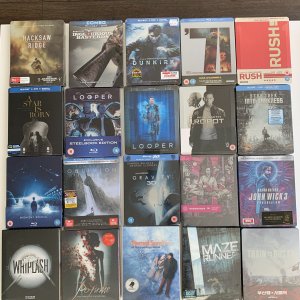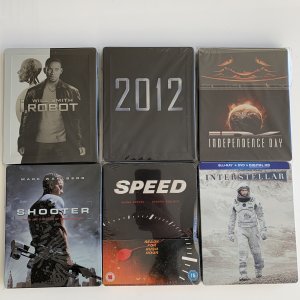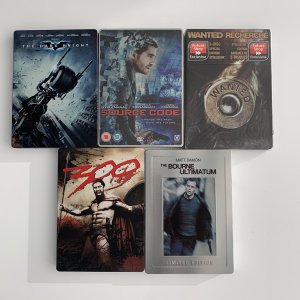 PREMIUM / WEA
Avengers Infinity War – Blufans Double Lenticular 3D+2D $140 CAD
Captain America Civil War – Blufans Single Lenticular (Captain America) 3D+2D $120 CAD
Captain America Civil War – Blufans Single Lenticular (Iron Man) 3D+2D $120 CAD
Guardians of the Galaxy – Blufans Single Lenticular (Groot & Rocket) 3D+2D $140 CAD
Guardians of the Galaxy – Blufans 1/4 Slip 3D+2D $120 CAD
Guardians of the Galaxy – Blufans (One Click Box)
SOLD
Iron Man – Blufans 1/4 Slip (Case Only) $50 CAD
The Maze Runner – Blufans Full Slip $100 CAD
Aqua Man – Manta Lab Double Lenticular 3D+2D $110 CAD
Wonder Woman – Manta Lab Double Lenticular $240 CAD
Whiplash – FilmArena Full Slip $200 CAD
Train to Busan x Seoul Station – Plain Archive 1/4 Slip $85 CAD
Perfume: The Story of a Murderer – KimchiDVD Lenticular Slip $100 CAD
Eternal Sunshine of the Spotless Mind – KimchiDVD Lenticular Slip
SOLD
Love, Rosie – FAC FilmArena Full Slip E2 $100 CAD
Begin Again – Nova Media Lenticular Slip
SOLD
Interstellar – HDZeta Full Slip $250 CAD
The Godfather Trilogy – Blufans $250 CAD
Exodus: Gods and Kings – Filmarena Full Slip $120 CAD
Shape of Water – Manta Lab Double Lenticular $150 CAD
Mission Impossible 5: Rouge Nation – Filmarena Full Slip $65 CAD
Loving Vincent – Full Slip $250 CAD
Game of Thrones: Season One – Canada Full Slip w/ Magnet
SOLD
Game of Thrones: Season Two – Canada Full Slip w/ Magnet $45 CAD
Drive x Mondo – Futureshop 1/4 Slip $100 CAD
Looper x Mondo – HMV 1/4 Slip $70 CAD
John Wick Chapter 3 Parabellum – Amazon France Collector's Continental Card 1/4 $55 CAD
STEELBOOKS
Inglourious Basterd – 1/4 Slip Futureshop $30 CAD
Oblivion – Futureshop 1/4 Slip
SOLD
Looper – Futureshop Lenticular $50 CAD
Guardians of the Galaxy – Futureshop Cassette Tape 3D+2D *Used/Like New*
SOLD
The Avengers – Futureshop 1/4 Slip $40 CAD *Used/Like New*
Avengers Age of Ultron – BestBuy Canada 1/4 Slip $40 CAD
Avengers Infinity War – BestBuy Canada 1/4 Slip $75 CAD
Captain America Civil War – BestBuy Canada 1/4 Slip $30 CAD
A Star is Born – BestBuy Canada 1/4 Slip $30 CAD
300 – Canada 1/4 Slip $30 CAD
Mortal Kombat – Germany $35 CAD
Mortal Kombat 2 – Germany $35 CAD
Dunkirk – Canada Sunrise Record 1/4 Slip $30 CAD
Jurassic World – France 1/4 Slip $30 CAD
'71 – Zavvi 1/4 Slip $25 CAD
Oblivion – Zavvi 1/4 Slip $40 CAD
Man of Steel – Zavvi 1/4 Slip 3D+2D $40 CAD
Iron Man 3 – 1/4 Slip Germany
SOLD
Star Trek: Into Darkness – Futureshop 1/4 Slip $30 CAD
I, Robot – Zavvi 1/4 Slip
SOLD
Maleficent – Amazon Spain 1/4 Slip $60 CAD
Midnight Special – Zavvi 1/4 Slip $30 CAD
Olympus Has Fallen – Zavvi 1/4 Slip
SOLD
London Has Fallen – Zavvi 1/4 Slip
SOLD
Rush – Zavvi 1/4 Slip $75 CAD
Hacksaw Ridge – JB Hifi 1/4 Slip $40 CAD
Interstellar – Futureshop 1/4 Slip $30 CAD *Used/Like New*
Independence Day – Zavvi $30 CAD *Used/Like New*
2012 – HMV $25 CAD *Used/Like New*
Shooter – Germany $25 CAD *Used/Like New*
I, Robot – Zavvi 1/4 Slip $25 CAD *Used/Like New*
Speed – 1/4 Slip Zavvi $10 CAD
*Sealed, but arrived with slight damage
)
COMBO/SET FOR SALE ONLY:
Batman Combo/Set: Batman/Returns/Robin/Forever – Futureshop & Zavvi 1/4 Slip $120 CAD
Alien Combo/Set: Alien/Aliens/Alien 3/Alien Resurrection – Zavvi 1/4 Slip
SOLD
Hunger Games Combo/Set: The Hunger Games/Catching Fire/Mocking Jay Part 1/Part 2 – 1/4 Slip $120 CAD
The Fast and The Furious 1-8 Combo/Set 1/4 Slip $280 CAD
G1/DVD STEELBOOKS
The Dark Knight – Futureshop $10 CAD *Used/Like New*
Wanted – Futureshop $10 CAD *Used/Like New*
300 – Futureshop $10 CAD *Used/Like New*
Source Code – Zavvi $10 CAD *Used/Like New*
Bourne Ultimatum – Futureshop $10 CAD *Used/Like New*
FIGURE COLLECTION
HOT TOYS 1/6 MMS78 IRON MAN MARK II $390 CAD *Like New*
HOT TOYS 1/6 MMS75 IRON MAN MARK III $275 CAD *Like New*
HOT TOYS 1/6 MMS120 WAR MACHINE $380 CAD
HOT TOYS 1/6 PPS002 POWER POSE IRON MAN MARK XXXV: RED SNAPPER $350 CAD
HOT TOYS 1/6 MMS213 IRON MAN MARK XXXIII: SILVER CENTURION $340 CAD
HOT TOYS 1/6 MMS212 IRON MAN MARK XVII: HEARTBREAKER $320 CAD
HOT TOYS 1/6 MMS215 IRON MAN MARK XXXVIII: IGOR $575 CAD
HOT TOYS 1/6 MMS248 IRON MAN MARK XX: PYTHON $420 CAD
HOT TOYS 1/6 MMS258 IRON MAN MARK XXXVI: PEACEMAKER $420 CAD
Last edited: